After attending conferences in South Australia, Tasmania and Canberra, last month Pasture.io moved to NSW. We sponsored the Dairy Research Foundation Symposium held in Bega. We thought it was a must for Pasture.io to be there, as the focus of the event was – Home-grown feed-base of the dairy business.
We're glad we attended because the Symposium was a great success. Over two days more than 170 attendees listened to a wide range of speakers, going from top performers farmers, national and international scientists, consultants, extensionists and service providers.
How can we unlock the true feed-base potential of pasture and intensive dairy systems?
This topic was the main question that triggered heated discussions among speakers and attendees, everyone trying to find the right answer! We know that regardless of the type of dairy system, feed accounts for over 50% of production cost. Focusing on how to produce and efficiently utilise feed on-farm is critical to achieving profitability. This practice is not always easy to do, and that's why this year Symposium's topic was so relevant.
Day one kicked off with a panel session. This session was lead by Annabel Johnson, where DRF Chair and dairy farmer Michael Perich, Professor Yani Garcia (University of Sydney), Dr Helen Golder (Scibus) and Mr Michael Johnsen (MP). The discussion centred on how to ensure growth in research, development and extension in the Dairy Industry, mainly focusing on NSW issues and needs. It was made very clear that there are a lot of questions that still need answering with more research. Further highlighted is the considerable demand for more investments in research and development in NSW, the second state in milk production. They also pointed out the vast potential for collaboration between Government, Universities, and Industry to make the most of the limited resources.
One of my highlights of day one included Dr David Chapman, the principal scientist of Dairy NZ. His lecture discussed how research in NZ is responding to the challenge of feeding cows. David also touched on how they see the future. The evolution of new forages, more control on nitrogen applications, and some examples of new environmental legislation putting pressures on farmers were among the hot topics presented by David.
Professor Yani Garcia presented data from Australian farms (dairy farm monitor project). This data showed the full range of profitability within enterprises, and that independent of the type feeding system (pasture-based or intensive), herd size or calving system, it's all about MANAGEMENT! Also related to home-grown feed, he pointed out that there is still a huge opportunity to improve pasture production and utilisation on commercial farms! This suggestion is good news, as it puts in evidence the room for improvement!
My favourite session of the day was the Bega Valley's young dairy farmers pushing innovation session moderated by local Dairy Australia Extension Officer Greg Duncan. Local farmers Ashleigh Rood, Andrew D'Arcy and Will Russel, were extremely passionate, delivering excellent presentations. They all discussed how they're improving their businesses by applying technologies and management strategies in their farms.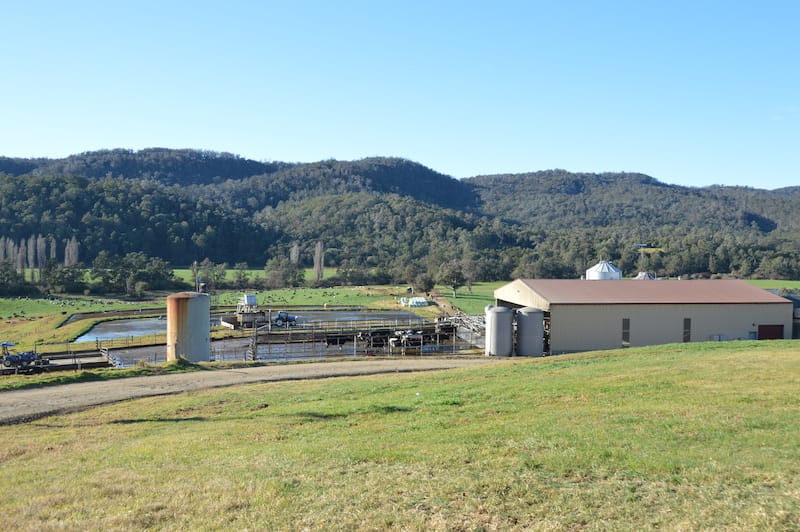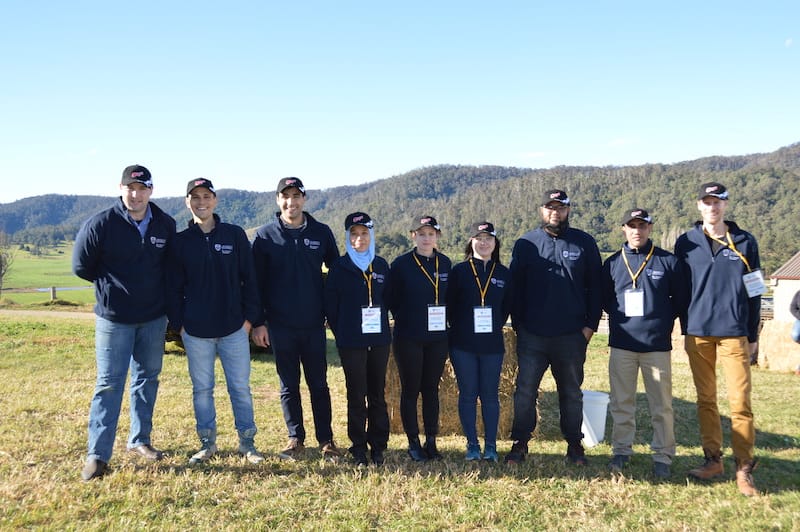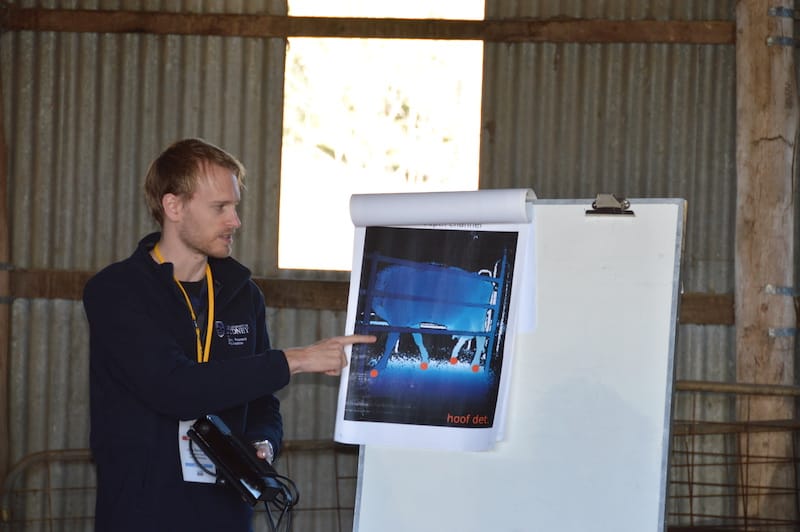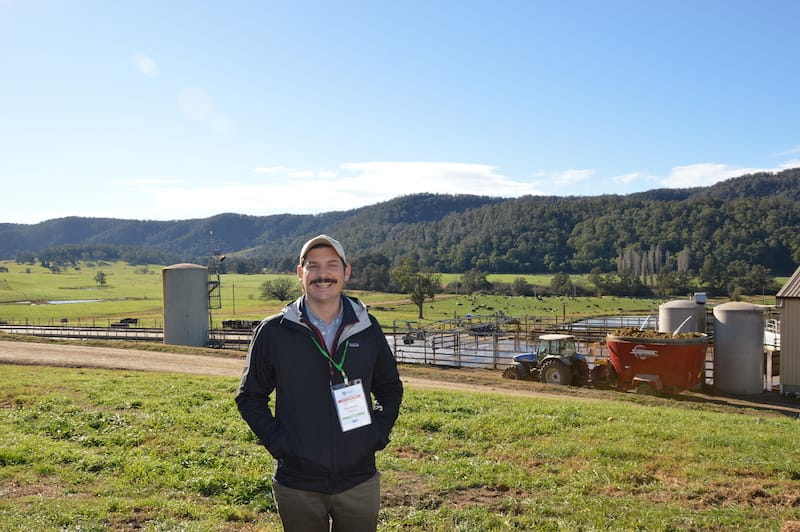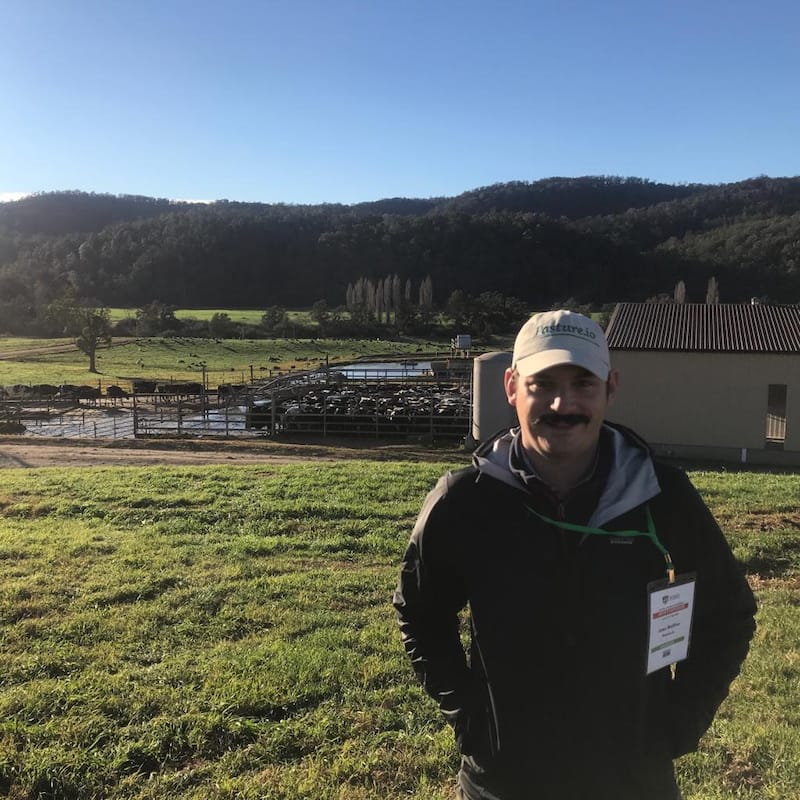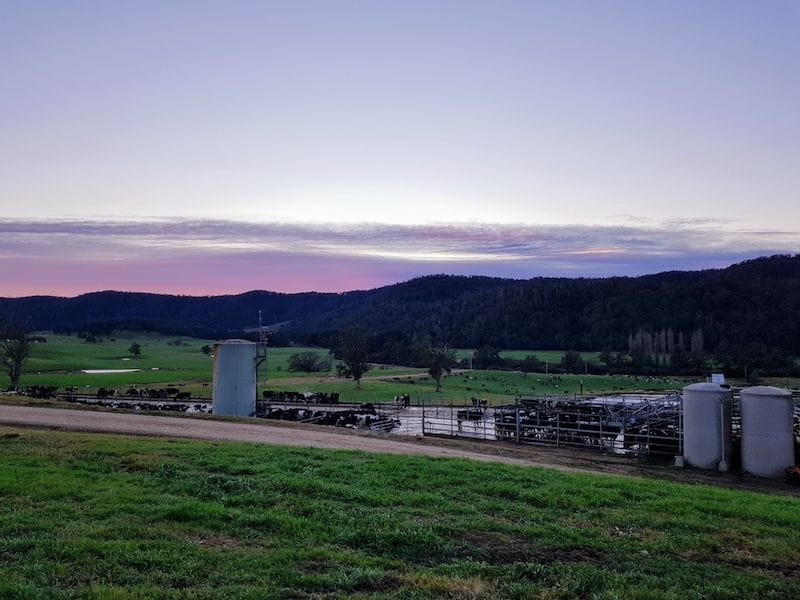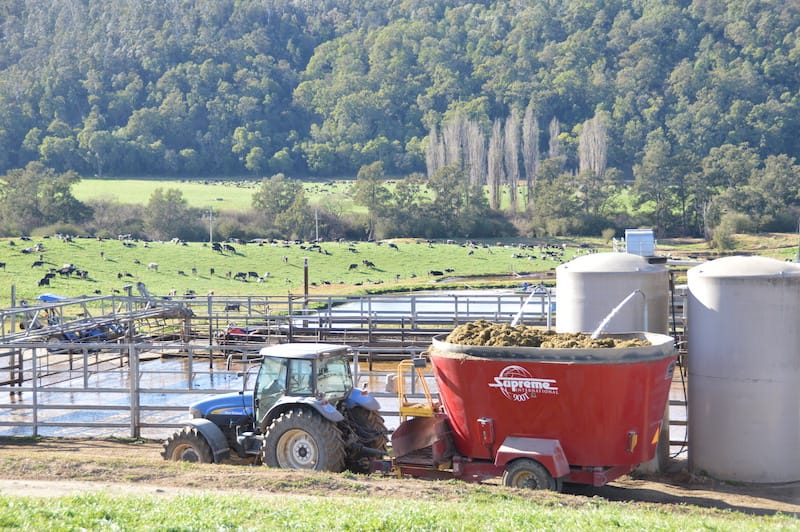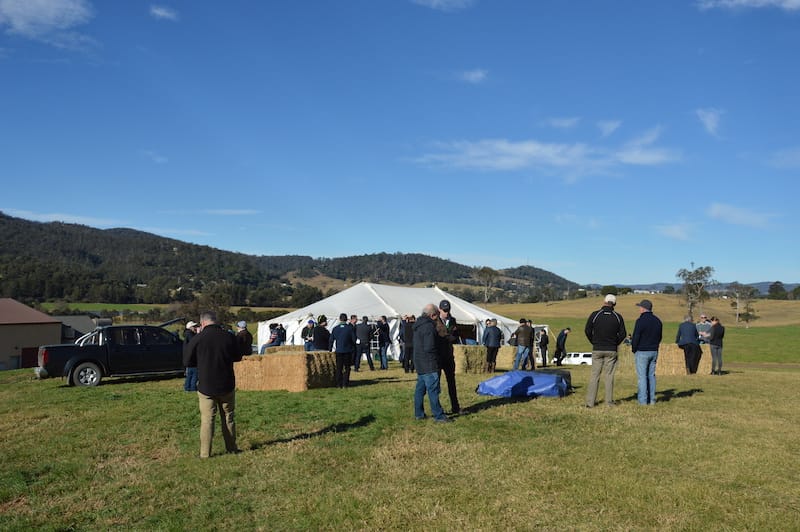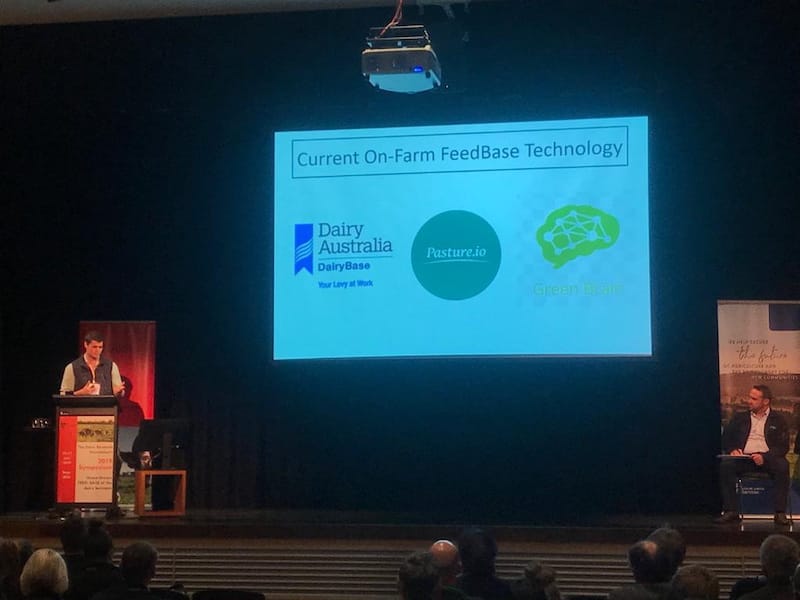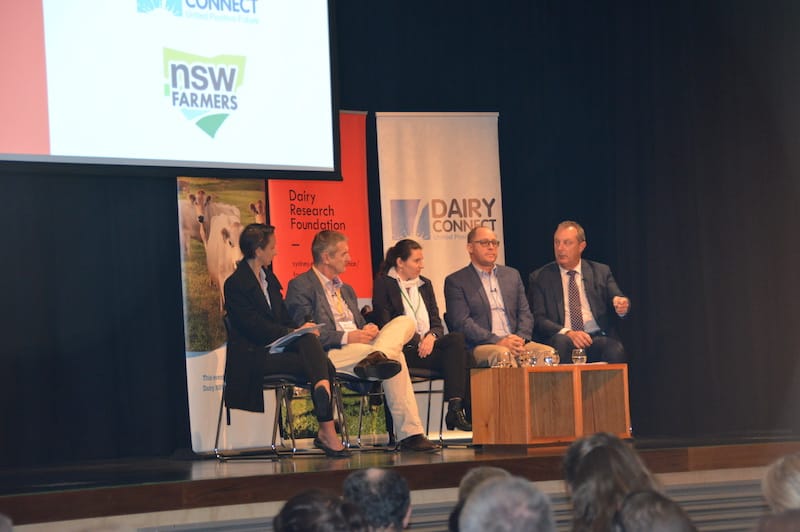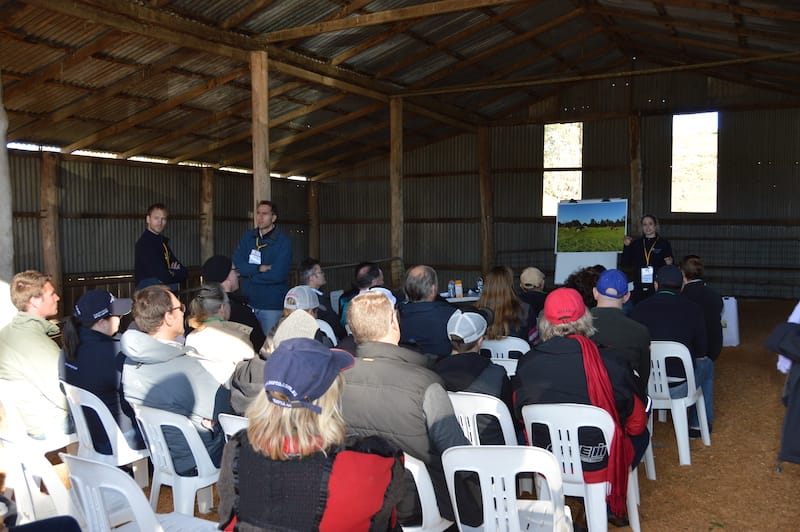 Local dairy farmer Will Russell explained that after spending a few years at Uni and working off-farm, he is he ready to take over his family farm.
Will presented his plan and told the audience how he would focus on increasing and optimising home-grown feed production. One of Will's tools to achieve his target is to use Pasture.io to measure and manage his pastures. The other reason why Will decided to include Pasture.io is the importance of record-keeping, primarily those related to fertilisation, spraying, grazing events and irrigation. He pointed out that he wants to be in control of Inputs, Outputs and the remarked the need of calculating the Cost of Production. For him, all decisions on-farm should be made based on reliable data, and Pasture.io will help him to achieve this. We can't agree more with Will, and we are looking forward to starting to work together.
As usual, day two was farm day! It was a windy and sunny day at the beautiful Cedar Grove Farm, Angledale where Ken Kimber and his family milk 1200 cows in a TMR system. A very impressive and tidy operation, where the owners mainly focus on maximising home-grown feed through an innovative nutrient and effluent management. Todd Whyman, one of the faces behind the operation, told us about his journey on effluent management. He expressed how this crucial part of his system has had a positive impact on his pastures.
The prestigious Emerging Scientists competition didn't disappoint as expected! Young scientists from all over the country got the chance to present the research they are conducting in various areas of dairy production. The best presentation (voted by the audience) was given by John Gardiner, University of Sydney, who showcased his latest findings in Automatic lameness scoring. Other topics included Virtual fencing, Management drivers of nitrogen losses, Driving profit in AMS, Short-term live weight changes in cattle, Microwave heat treatment of forage. Yes, you read correctly, Microwave. An exciting story for another day.
Did you attend the Dairy Research Foundation's 2019 Symposium? I'd love to read about your experience in the comments below - or if you didn't attend, tell us about the type of technology you want to see on farm.
Happy grazing!
- The Dedicated Team of Pasture.io, 2019-07-31