Automate your pasture readings
With zero labour automate your readings
Get daily satellite flyovers + weather updates
Intelligent design using neural networks
Going beyond the limitations of NDVI
Your farm records improve the algorithms
Record and plan your farming with precision
Your pasture measured while you're busy farming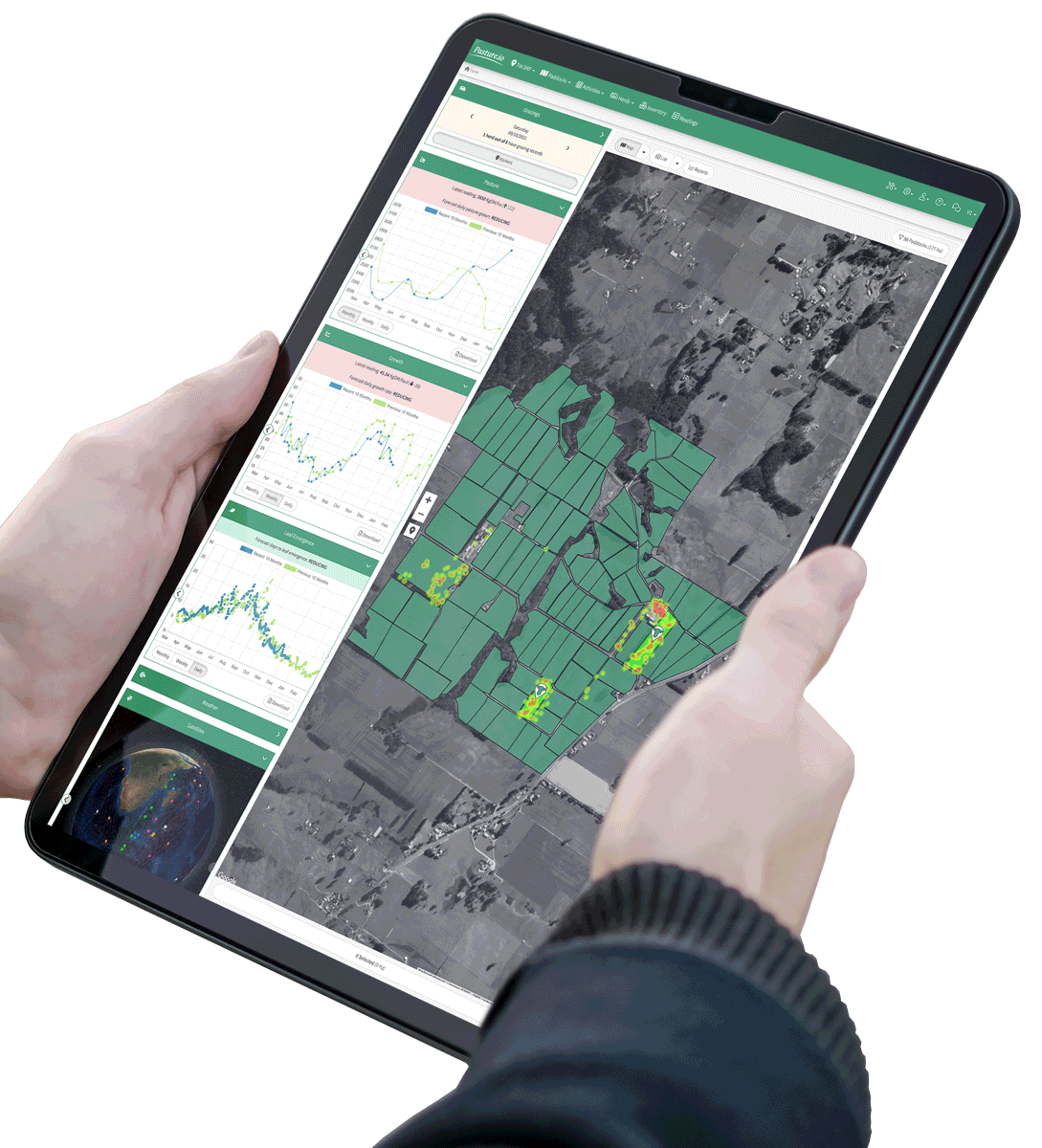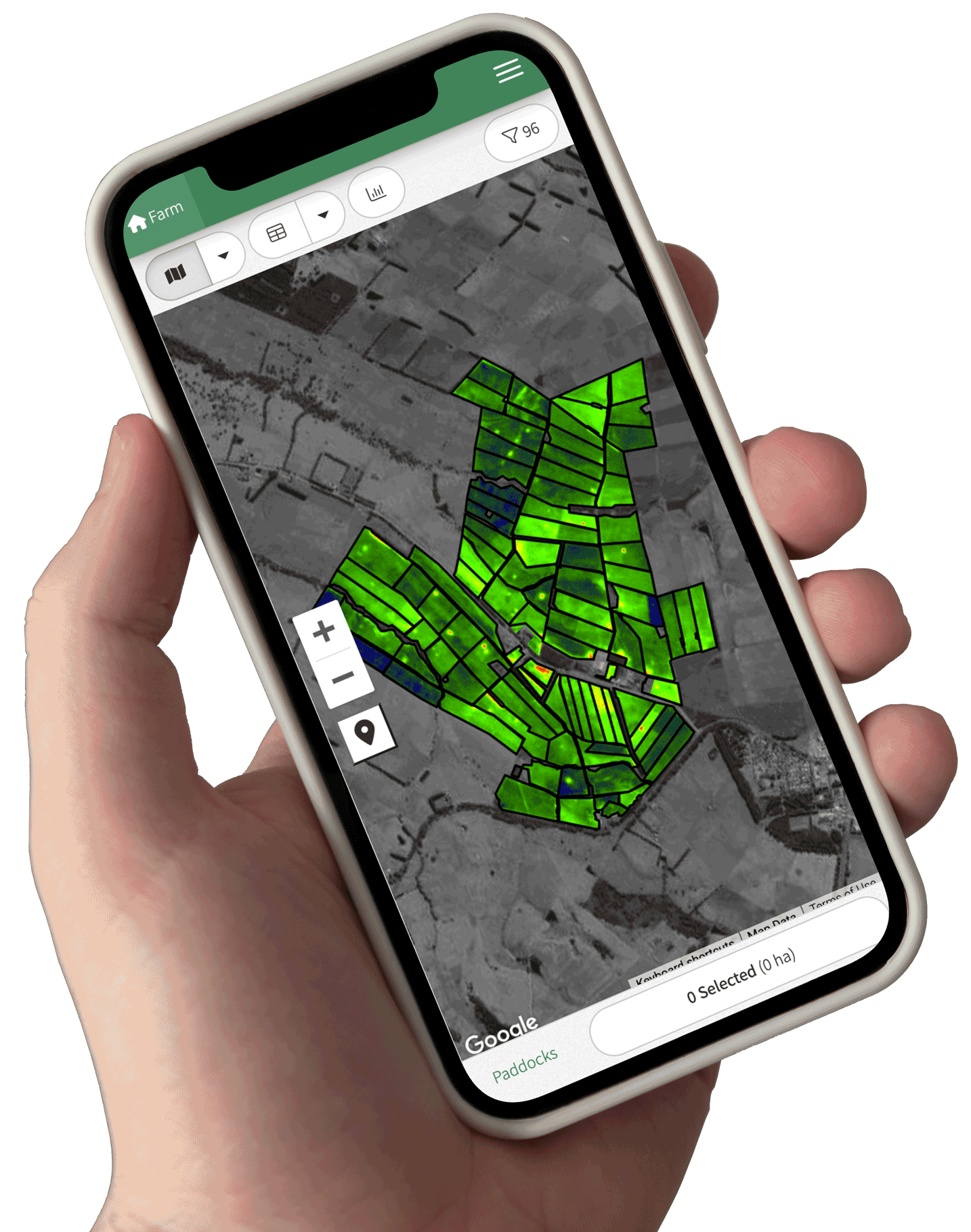 Automate your grazing records
Grazing decisions should be effective
and hassle free
Know where and when you grazed
a paddock
Know where to graze next
even when it's dark outside
Plan your grazings for the week
and print out
Optimise your stocking rate
throughout the season
Match pasture growth with growth rate
demand
Stressless grazing decisions and record upkeep
Track your farm's performance
Interact with dynamic predictive feed wedge
Growth rate and leaf emergence forecasts
View reports in lists, charts, and map
overlays
Keep track of your pasture grazing KPIs
Get key feedback from your farm dashboard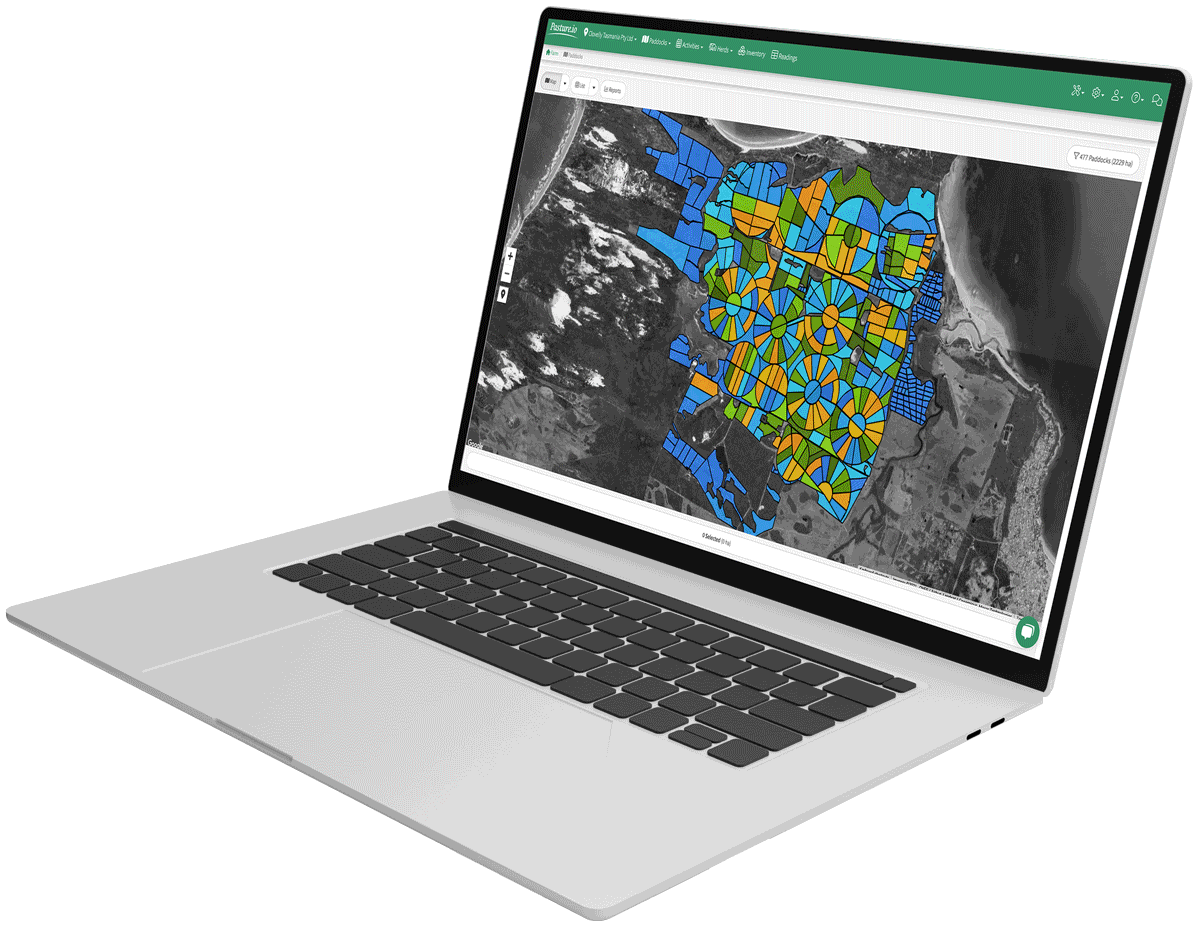 A decision support tool on all your devices
Recall and utilise your records
on the fly
Pinpoint paddock performance
spatially
Record essential records
in the paddock
Move onto your other important tasks
Digitally store your farm records safely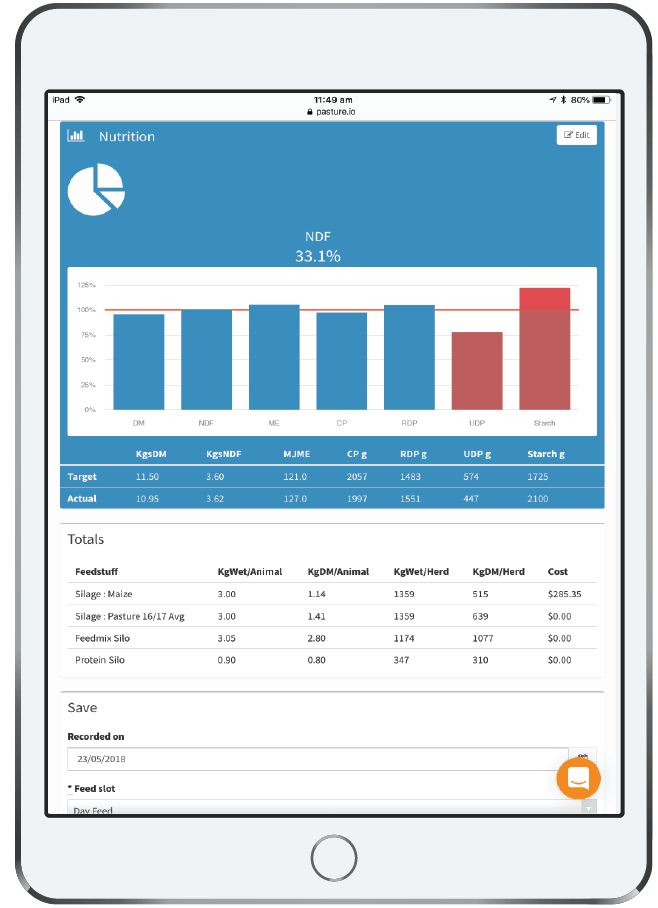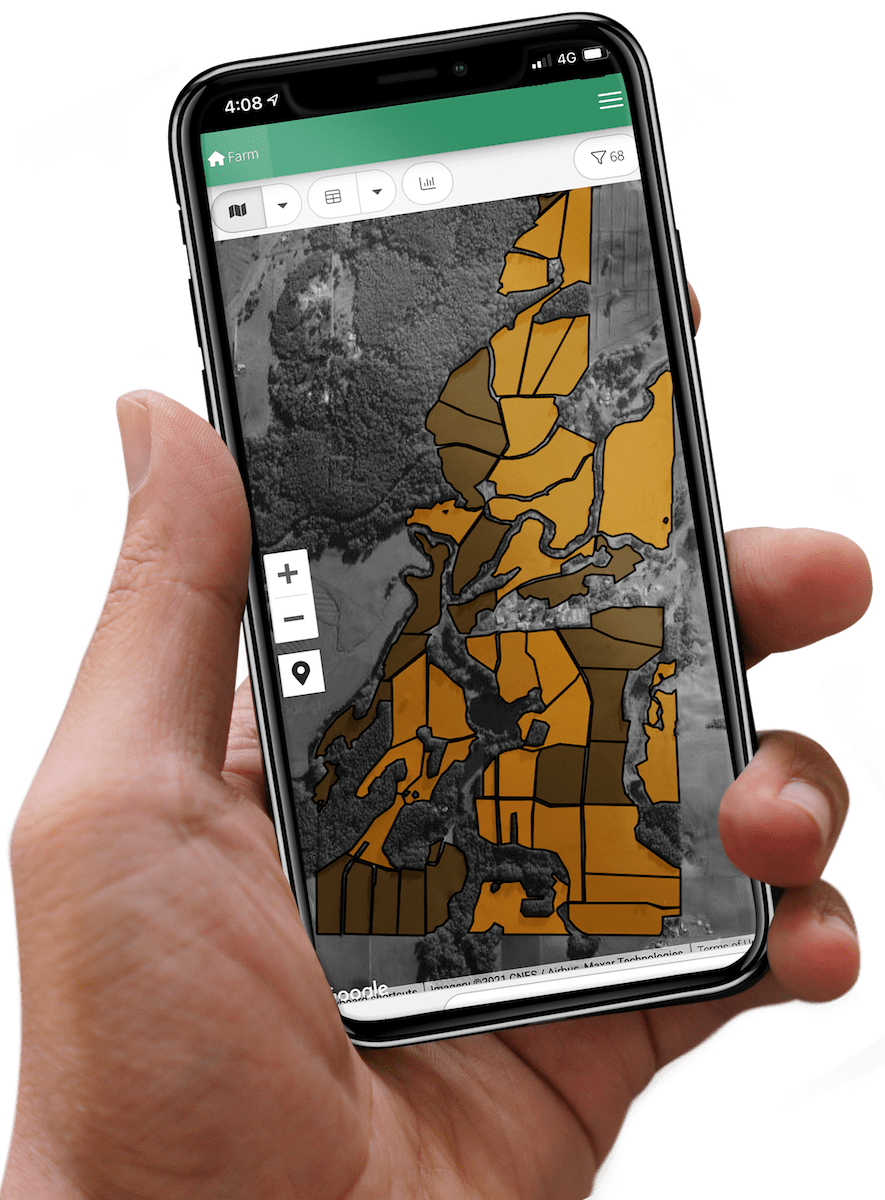 Feed your livestock properly every time
Feeding animals should be simple
and effective
Maximise the nutritional value of your feed
Enhance your livestock performance
Better utilise your pasture and supplements
Make timely and effective grazing decisions
Give your animals what they deserve
Easily allocate accurate pasture breaks
Easy farm mapping is all yours
Easily allocate your pasture breaks
across paddocks
Measure area, length and edit
paddock boundaries
Select your paddocks to graze
, fertilise, plant, etc
Communicate easily with contractors
and your employees
Quickly plan out temporary fencing
and pasture allocation
Your farm map at your fingertips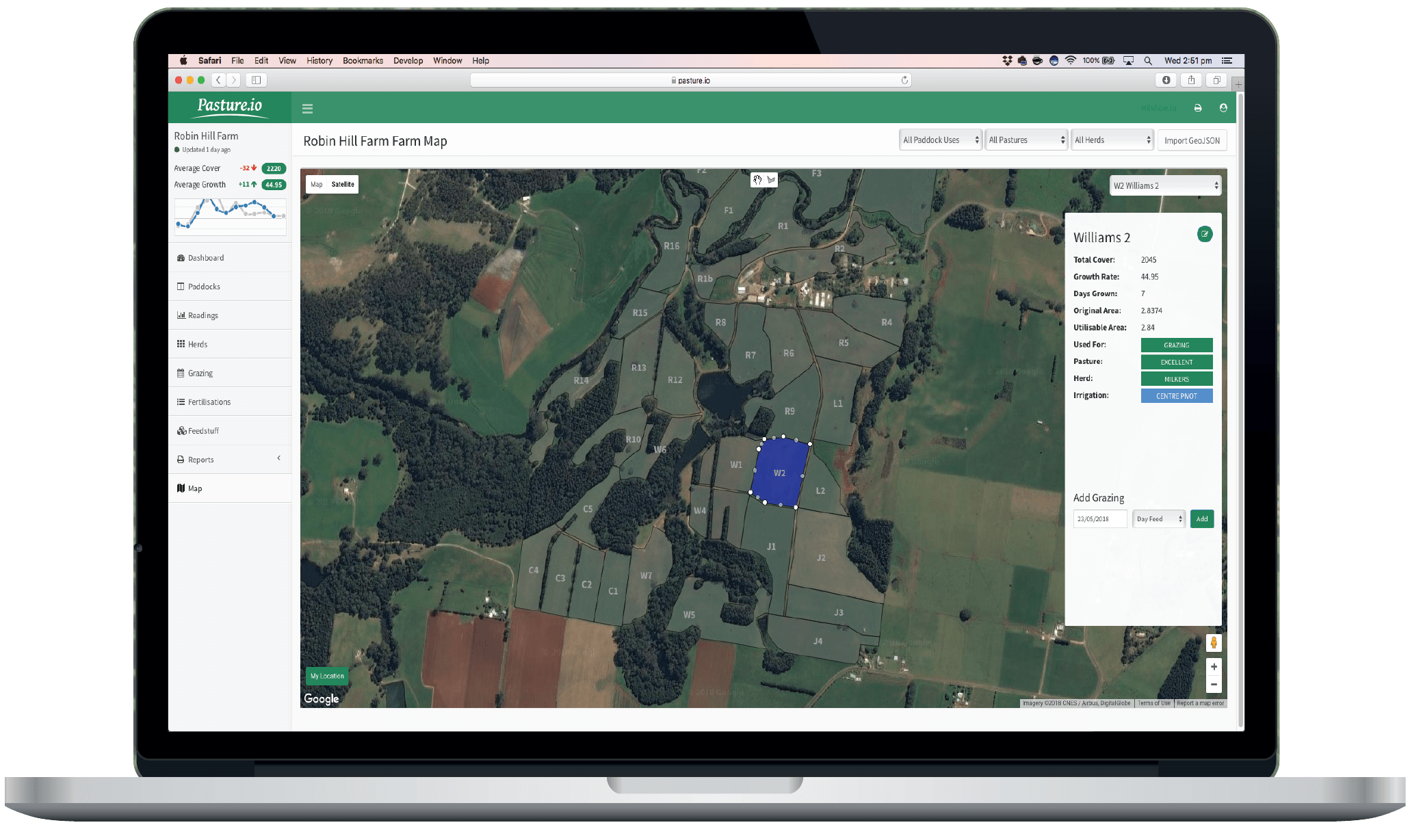 Get extra support when you need
Work with a dedicated account manager
Reachable via phone, email and in-app
Be provided with more than just help
Leave feedback and watch the platform grow
Detailed instructional videos throughout
the app
We grow with you, support and welcome you
Support should be human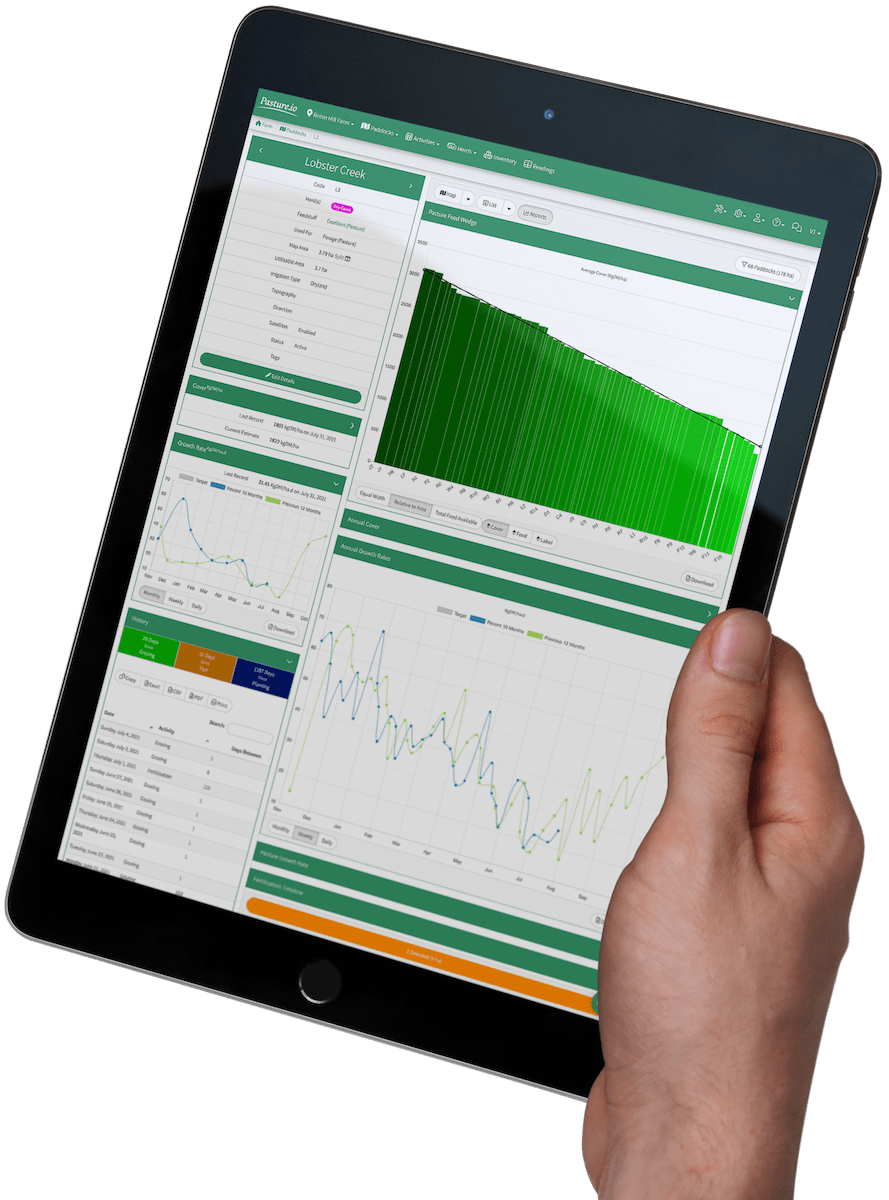 Trusted by farmers and leading institutions
from across the world (ANZ, LATAM, EU, ZA)
We've calculated we're making between $60,000-$80,000 extra a year by getting it right using Pasture.io.
For me, this program has been a game changer here in New Zealand and for the world. Other programs don't do what Pasture.io does. I wouldn't think of using anything else.
These (satellite) measurements are accurate and of higher frequency. As a result, we can make better and timely decisions to prevent feed shortages and increase production.
More Testimonials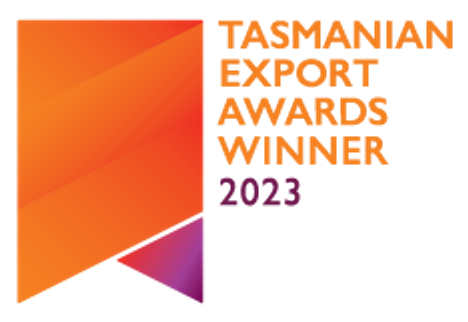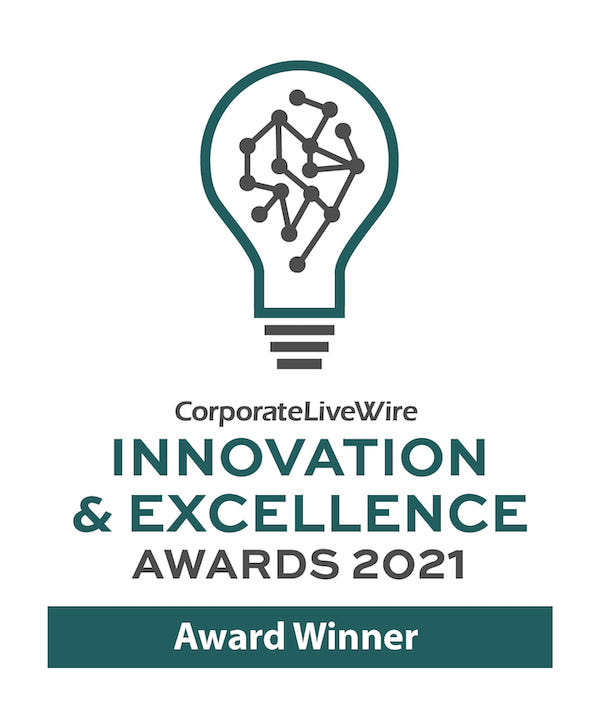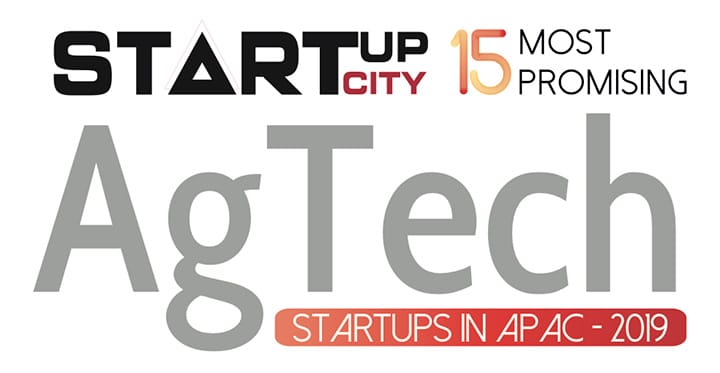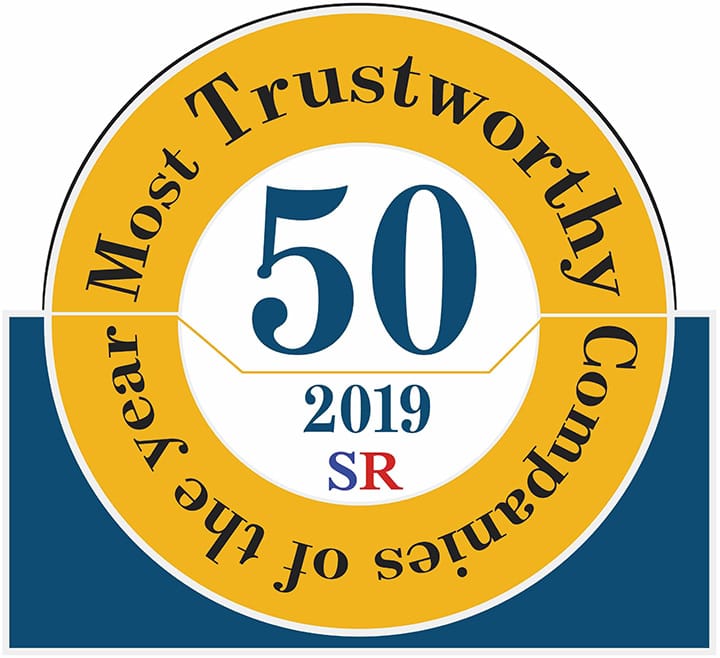 Automated Pasture Measurements
Every. Single. Day.
200+ satellites
Daily flyovers
Machine Learning modelling from satellite, climate and farm records
Artificial Intelligence backed on cloudy days
Satellite-enhanced on clear and partial cloud cover days
Forecast + current + historic growth rates, covers & leaf appearance.
Your All-Inclusive Farm Management Platform
Your Data, Your Way
Maps, tables, charts, calendars, export to spreadsheets, PDF, you name it!
Paddock History
Every single activity, chemical, note and pasture measurement
Farm Calendar
Subscribe to activity types on your phone or computer
Grazing Management
Every herd's full history and easier, faster decisions on where to graze next
Fert and Sprayings
Full data capture and third-party imports. Visual cues to avoid grazing withheld paddocks.
Unlimited Data
The more records you add, the better the A.I. can learn your farm, therefore you can have unlimited paddock and herd records and user access to those records.