Ever wonder what the future looks like?
Automatic pasture measurements with zero labour.
Daily weather updates and satellite flyovers.
Intelligent design using neural networks.
Going beyond the limitations of NDVI.
Your farm records improve the algorithms.
Record and plan your farming with precision.
We grow with you, support you and welcome you.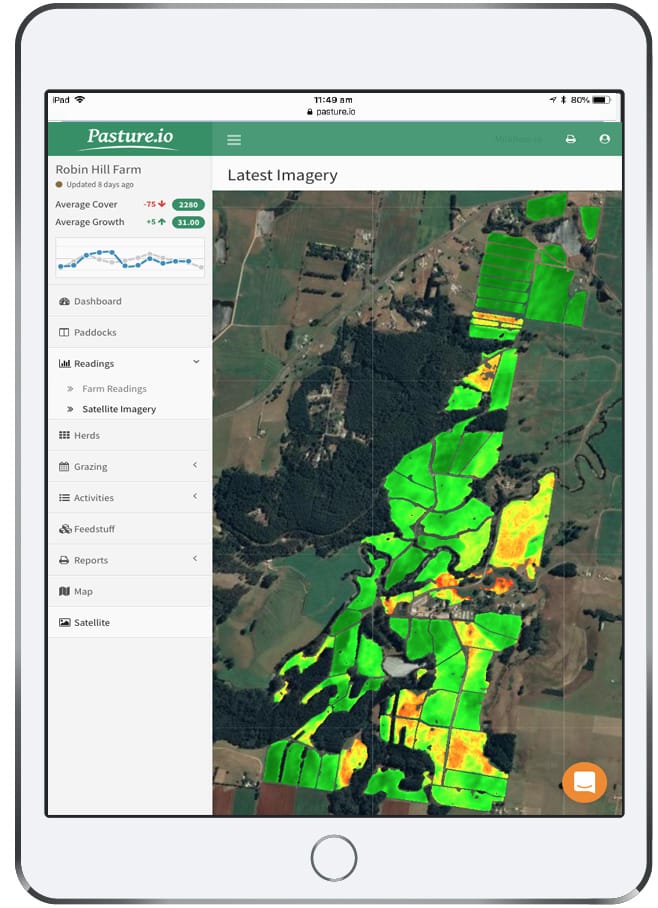 Wherever you are in the world...
Imagine your pasture being measured while you're busy farming.
Pasture.io's world-first satellite measurement is trusted by farmers and leading institutions.
We've calculated we're making between $60,000-$80,000 extra a yearby getting it right using Pasture.io.
It's a cheap investment, and it means peace of mind for me too — it's going to take a lot of guesswork out of pasture management decisions made by staff.
Our farming success is due to focusing on how our pastures and livestock perform, which is what the Pasture.io platform does best.
More Testimonials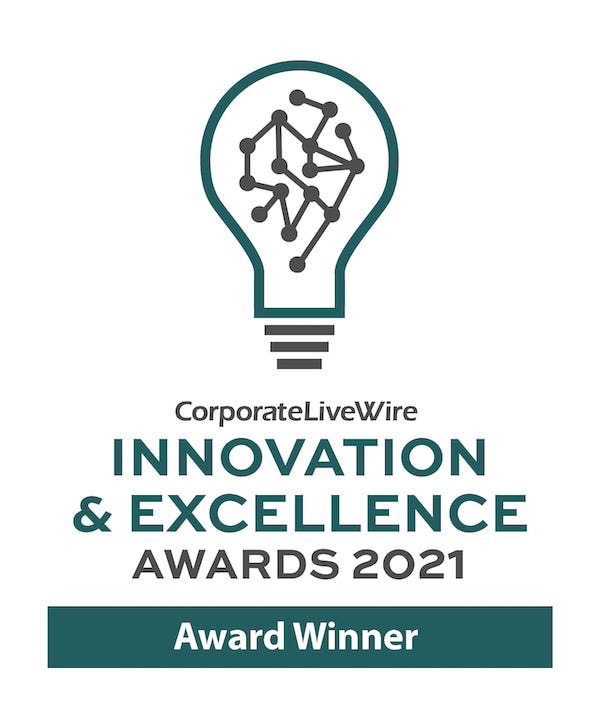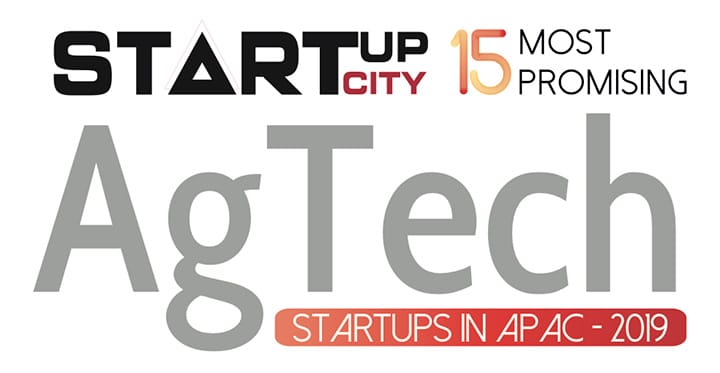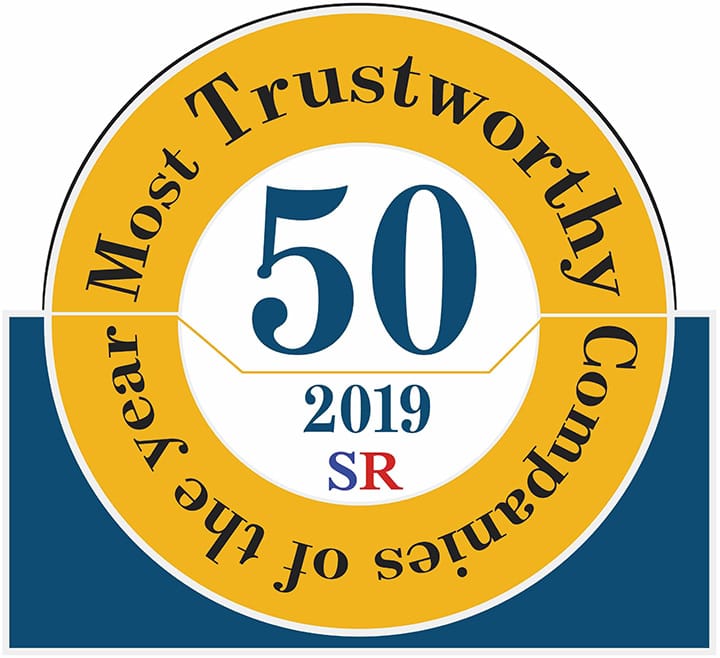 Ever wanted a snapshot of your farm's performance?
Predictive feed wedge
Historical cover and growth
Pasture grazing KPI's
Interactive farm map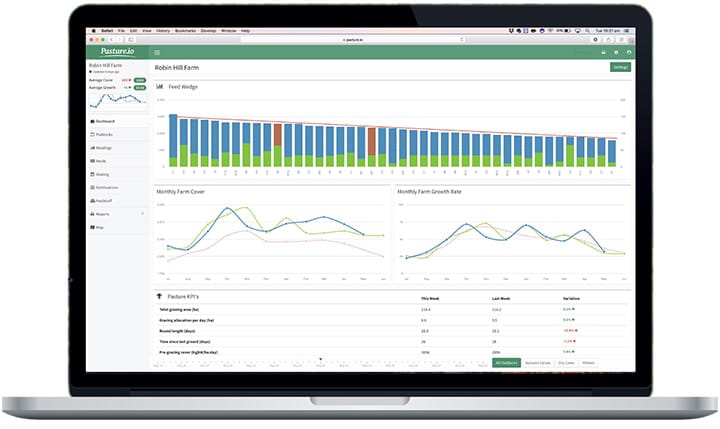 We've designed a dashboard that gives you constant feedback for improving your business.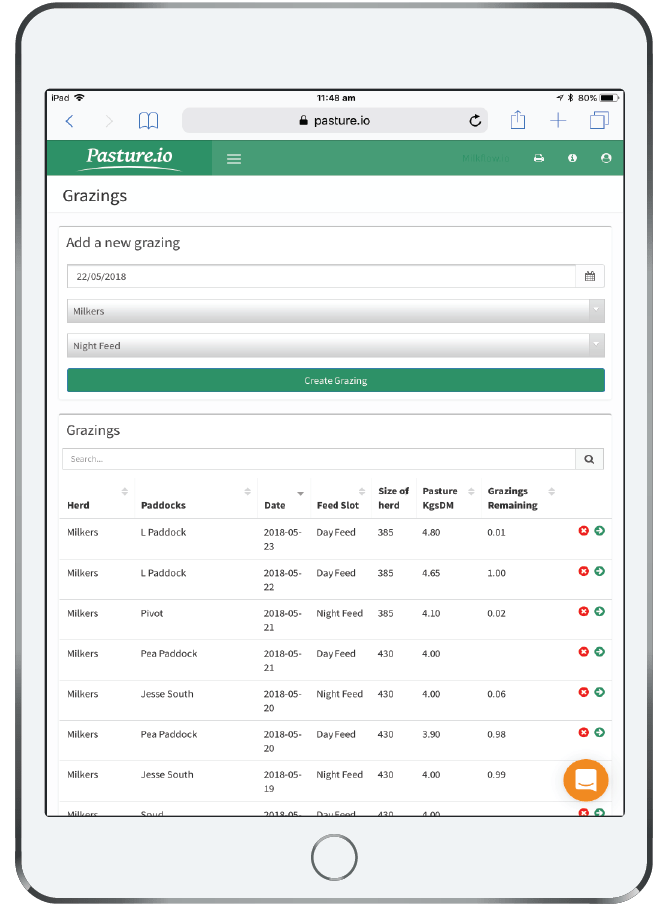 Ever find yourself under pressure to find a paddock to graze?
We've made grazings easy
Import your pasture readings
Plan your grazings for the week
Print your grazing plan
We remove the constant stress of where to graze your livestock 365 days of the year.
Ever wonder where you last spread fert?
We've made record keeping quick
Enter your farm records
Recall and utilise your records
Move onto your other farm tasks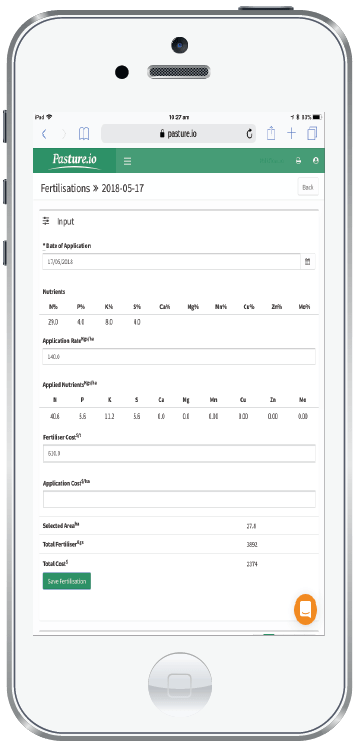 We safely and securely store your farm records for your peace of mind.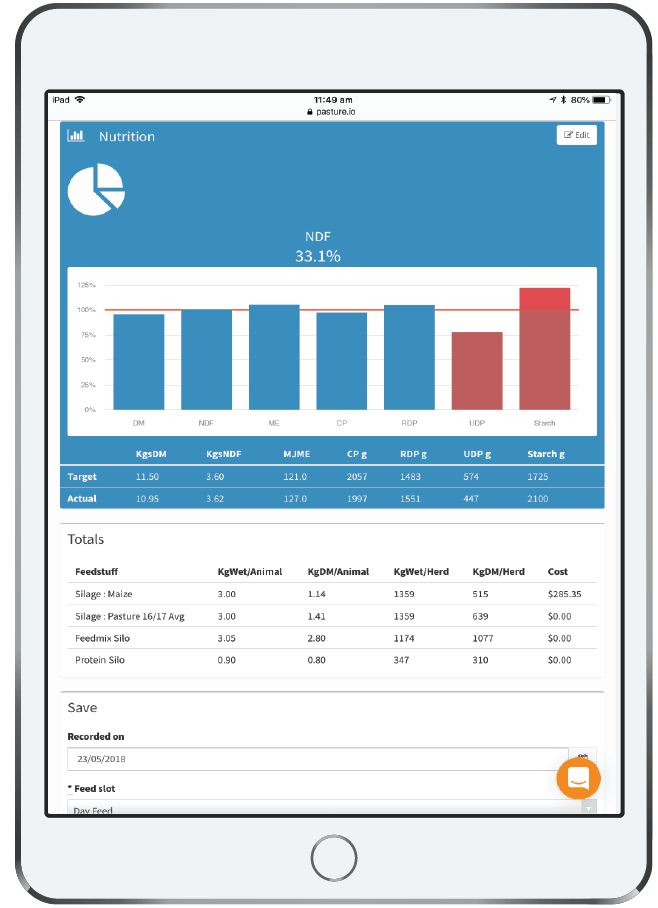 Ever wonder if yourlivestock nutritional requirements are being met?
We've made nutrition simple
Maximise the nutritional value of your feed
Enhance your herd's performance
Utilise more pasture
We've fused nutrition into farm management
to give you more bang for your buck.
Ever find yourself trying to figure out accurate pasture breaks?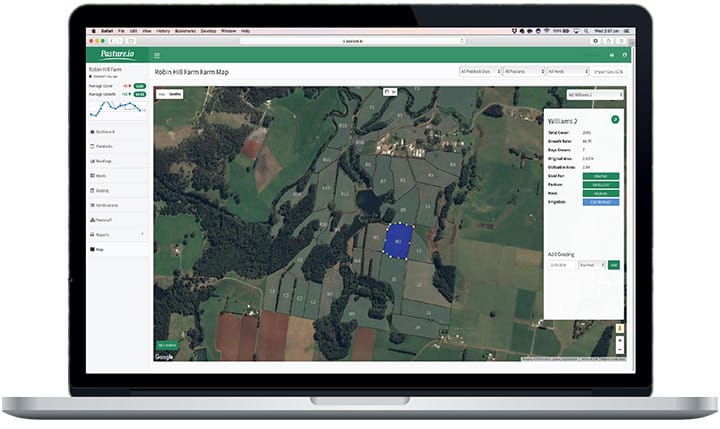 We've made mapping practical
Easily allocate pasture breaks
Measure area, length and edit
Select paddocks to graze or fertilise
Communicate with contractors and employees
We've integrated mapping all the way through our platform for your precision.
Ever wanted extra support getting started with new tech?
We've integrated support right through the platform to get you comfortable from the get-go.
We've made support human
Reachable via phone, email and in-app
Be provided with more than just help
Leave feedback and watch the platform grow
Detailed instructional videos throughout the app
Plans & Pricing
All prices are in Australian Dollars
Enterprise
$4099/year
+
$11/hectare
Everything in Premium Plusand:
Developments & AnalysisPOA
Custom User Permissions
Management Zones / Farmlets
Enterprise Cloud
On-Farm TrainingWithin Australia
Enterprise Support
Premium Plus
$ 1099 /year
+
$ 8 /hectare
Everything in Premium and:
Satellite Pasture Measuring
up to daily flyovers
Deep Learning with A.I.
sats + weather + paddock
Spatial Analysis
3m2resolution
Local Daily Weather
Link Multiple Accounts
users, farms, affiliates
Email & Phone Support
Premium
$0/year
1 Farm
Dynamic Dashboard
Pasture & Grazing Management
Paddock Activities
fert, spray, plant, harvest
Farm Reports & KPIs
Feed Inventory & Nutrition
Digital Farm Map
Herd Ruminant Nutrition
In-App Support
Start FREE today
When you sign up, you'll be on the Premium plan, which is 100% free. We don't charge a cent until you choose to upgrade to the satellite plans.
Your Decision Support Tool