A large portion of your dairy farm's investment goes into heifer rearing.
According to Dairy Australia, by the time a heifer has calved, the animal has already costed the farm owner anywhere between $1300 and $1500. Therefore, for every 100 heifers raised on a farm, it has cost the enterprise $130,000 to $150,000.
In order that you earn good profits, your heifers must get in calf quickly, calve without difficulty, produce milk and get back in calf quickly.
One of the most effective ways to reduce your heifer rearing costs is to reduce the herd's average calving rate.
Heifer rearing can be successful if you constantly monitor their height and weight and evaluate against your herd's growth targets.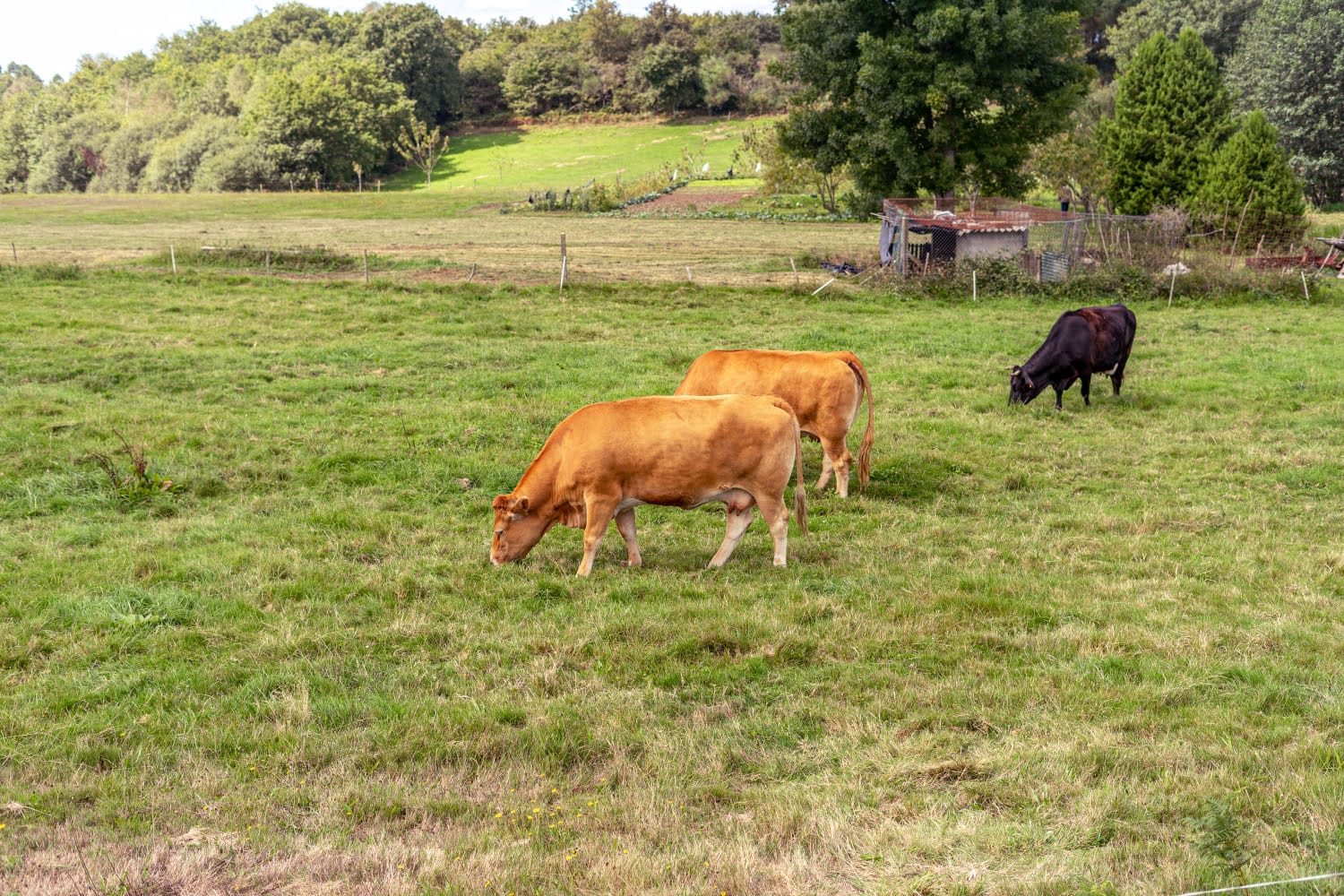 Benefits of growing heifers that reach target weights and growth:
Early puberty
Quick to get incalf
Less calving difficulty
First calvers have good fertility
High milk production
Longevity in the herd
Research shows that heifers that calve for the first time at 24 months of age of less are most profitable because adding heifers into the herd would give you a younger herd. And in turn help you earn more profits from:
more milk (and fewer milk productivity problems)
your choice to cull more selectively
more income from selling excess livestock
To achieve this productivity, you must, from day one, pay attention to feeding your heifers the right quantity and quality to reach target liveweights based on age and other factors.
This article gives you those practical guidelines to (A) set weight targets and (B) achieve growth rates that would produce profitable replacement heifers.
Setting Weight-for-Age Targets:
Target weights are calculated using a proportion of the mature weight of the lactating herd.
Weight-for-age targets accepted by the dairy industry have been computed through research and are stated as a percentage of mature liveweight.
They are:
30 % at 6 months age
60 % at 15 months age (start of first mating)
90 % at 22 months age (pre-calving : the 22 month target includes adjustment for pregnancy.
Liveweight (Lwt) is an objective measure of heifer growth. The industry has set liveweight targets for heifers at 6, 15 and 22 months of age , known as weight-for-age targets.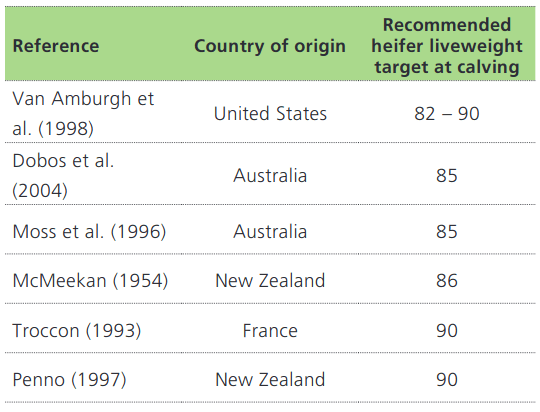 Mature liveweight is the average herd liveweight which is determined by weighing a cross section of the mature (3rd lactation +) cows in the herd.
Ensure:
You weigh 20 to 50 heifers (more cows give more accuracy)
You weigh heifers after the morning milking session
They are 6-8 years of age
They have been 100-200 days in milk
They have a minimum BCS 4.5
The finer details:
The mob's average weight should meet the target weight-for-age, but you can expect individual heifer weights to vary a little.
No more than 10% of a mob should be more than 10% behind their target weight-for-age.
If any heifer falls below the minimum weight the reason(s) should be identified and quickly fixed.
You should weigh your heifers every 4 to 8 weeks.
While weighing you have to be consistent in choosing your weighing scale, time after feed, say 3 hours after fresh feed, time in yard, diet changes and gut fill (gut fill accounts for 22% of a heifer's weight and is influenced by water access and quality, feed quality, speed of digestion, supplement quantity in diet, and even weather effects) effect of a weather event on feed intakes and utilisation. See charts below for more clarity.
You can estimate the average mature weight from an assessment of the breed composition of the group of heifers using the below industry standard:
Jersey - 423 kg
Crossbred - 467 kg
HF - 499 kg
Achieving Growth Rates & Nutritional Requirements:
Australia's 'dairy regions'' have different growing seasons and feed types and quality.
In the Southern Australian regions, (Victoria, Tasmania, South Australia and Southern NSW)-pastures are mainly the high quality forage, ryegrass. Northern NSW and Queensland pastures comprise of tropical grass which has lesser nutrient quality.
So you have to choose the feed composition accordingly and set your own heifer target weights, keeping in mind the milk production your dairy farm wants to achieve.
The Heifers on Target app by Dairy Australia allows you to create customised charts for your own dairy farm's requirements.
Energy is measured in megajoules (MJ ME).
The energy required by calves to put on weight is called 'energy for growth', while energy to live, is called 'energy for maintenance'.
Heifers use more 'energy for maintenance' as they age. For example, a heifer that weighs 100 kg requires 20 MJ ME to put on 1 kg liveweight, but a 400 kg heifer will need double, 40 MJ ME to put on the same 1 kg livewight.
Simply put, to find out your heifer growth rate, identify how much weight it needs to put on before calving.
And then divide this weight by the number of days left before calving.
For example, if your heifer needs to put on an additional 70 kgs, and there are about 100 days left before calving, your heifer will need to put on around 0.7 kgs a day.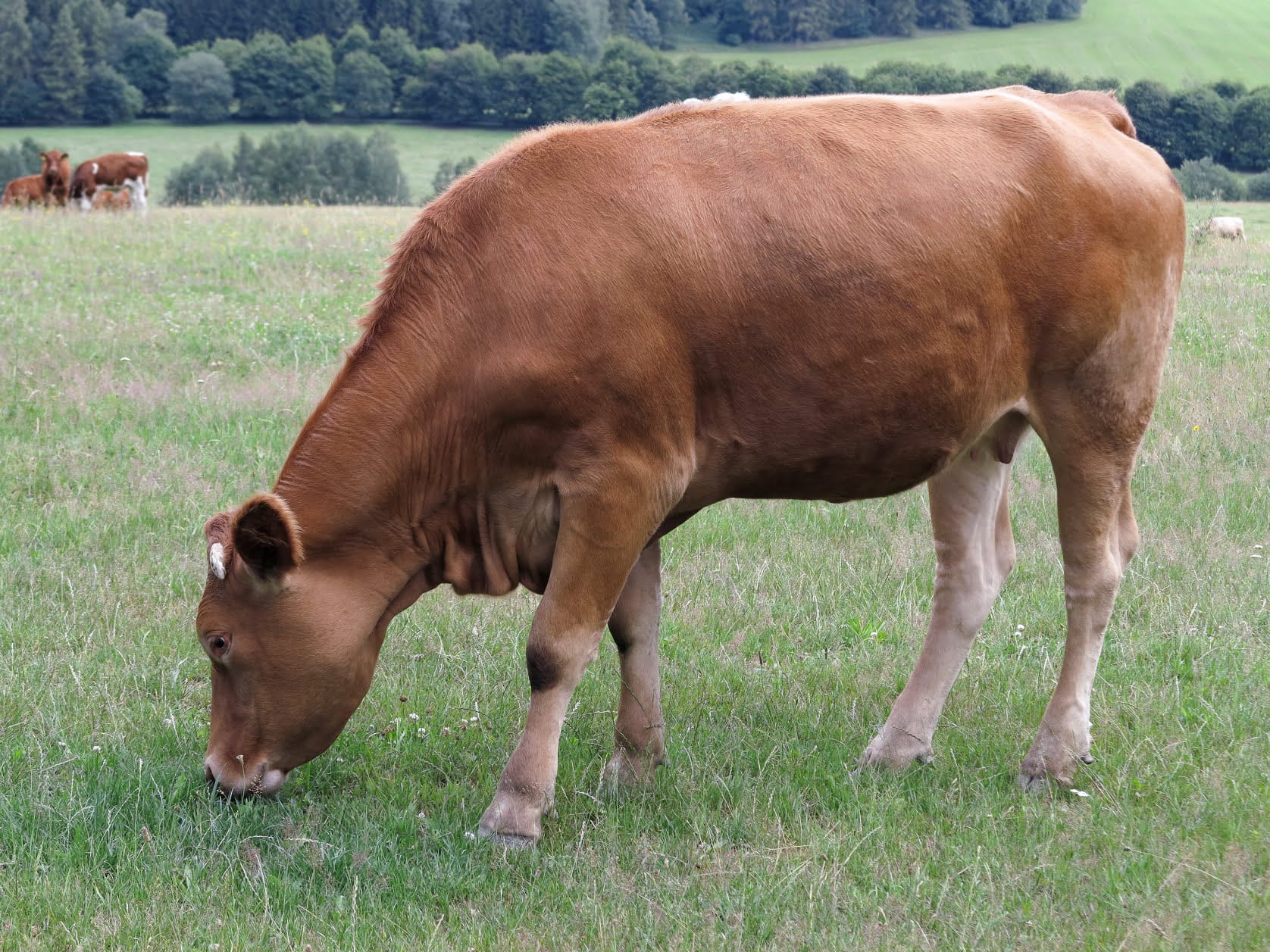 In Australia, dairy cows get about two-thirds their nutritional requirements from pasture. In fact, well maintained pastures alone can help your heifers put on anywhere between 0.6 and 0.8 kgs a day. Anything more than this, you will need to depend on supplemental feeding.
We hope that you found this article useful. As we discussed, helping your heifers calve early and reach recommended liveweight targets can help you rear productive and profitable heifers.
For more such articles, check out our animal health section.
Until we meet again, happy farming.
- The Dedicated Team of Pasture.io, 21 December 2020