As a dairy farmer, your productivity, profits and well-being depend on how healthy your animals are and how well they are able to reproduce.
So it's important to keep a tab on the general and reproductive health of your dairy cows.
But we both know that health is a complex subject. And that a range of factors including feed type, weather, season and immune responses can impact the health of your dairy cows in more than way.
The need for a quick and straightforward health assessment tool
To cut through this complexity, we need a simple tool to help us gauge the health of our dairy cows in broad terms.
Yet this can't be subjective, where two different people can end up with an entirely different health assessment of the same cow.
Because if it comes down to personal opinions, what's the point in using the tool?
Might as well eyeball the health of your animals and use your intuition instead.
At the same time, we also don't want a comprehensive scientific tool that needs complex testing equipment or a considerable time commitment.
Otherwise, how would we do this for more than two-hundred cows every few months?
To sum it up – we need a quick and straightforward tool that can give us some meaningful health markers. And we used live animal body weight as an indicator for a very long time. But different animals and different breeds have different body frame sizes.
So an animal with a larger body frame, like say an under conditioned Holstein-Friesian may actually weigh more than a healthy Jersey. This was the biggest limitation of using body weight as a health indicator. And this is why we need a better health assessment tool. And that tool came to be the BCS.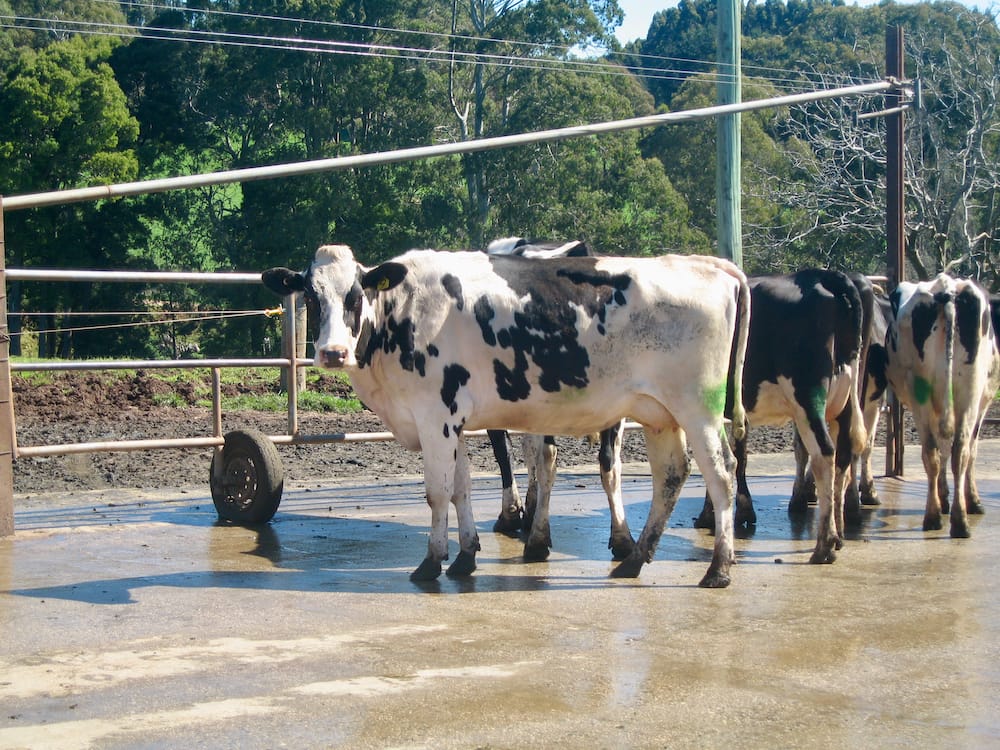 Why use body condition scores for dairy cows?
As the name indicates, BCS is a scoring system that assesses the body condition of a particular animal. It can be applied to assess the body condition of beef cattle, dairy cows, horses, sheep and even cats or dogs.
However, to make this article useful to you, let's focus all our attention on using BCS to assess dairy cows.
In general, it is hard for any animal suffering from a prolonged bout of illness or disease to put on weight and accumulate fat reserves. Similarly, an animal with poor genetics, appetite or nutritional intake cannot accumulate fat reserves easily.
This is why fat reserves can be a simple, quick and reliable marker for assessing animal health conditions. It can give us clues about the animal's productivity, fertility and nutrition intake.
BCS takes advantage of this fact. After all, BCS is nothing but a graded scoring system of how well (or poorly) an animal has been able to accumulate fat reserves on its body. Using BCS can help you predict the general and reproductive health of a particular dairy cow.
How to use the 1 to 5 scoring BCS system for dairy cows
Think of the BCS scoring system as a ranking system – that helps you differentiate dairy cows that have accumulated insufficient, optimum or excess fat reserves.
The best place to assess fat reserves is the backbone, near the hips and tail.
Why?
Because the backbone can easily be felt here. And only excess fat reserves can accumulate here. So if you are able to easily feel the bones, it means that there aren't enough fat reserves. On the other hand, if you're unable to feel the bones easily, you can rest assured that there is a good deposit of fat covering it.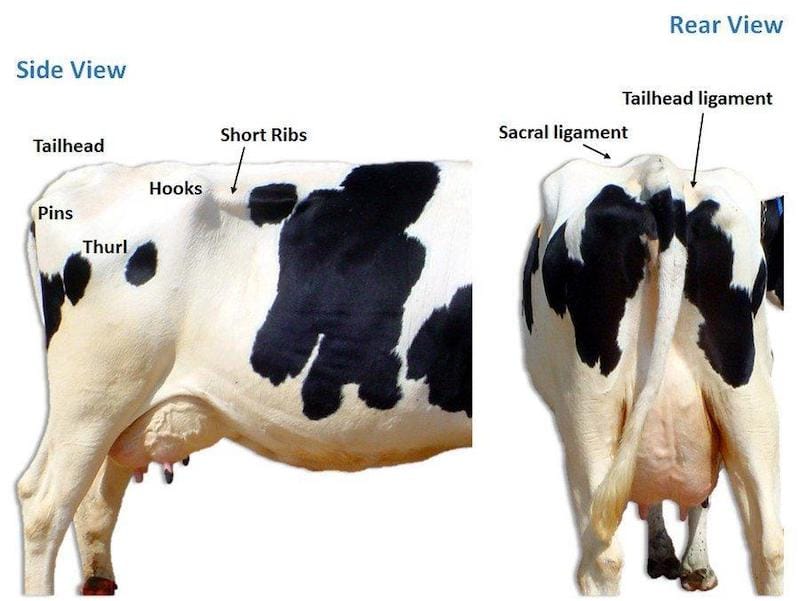 The original BCS system ranges between scores from 1 to 9. I'll tell you more about this later.
For now let's focus all our attention on a more recent BCS system, that has scores ranging from 1 to 5 only. This scoring system has been adopted by several universities, governments and industry bodies. Under this new system, let's see what each BCS score means.
BCS score of one means severely under conditioned
A BCS score of one is mostly a theoretical value and is rarely found in reality, except probably in regions affected by prolonged drought or famine conditions.
Think of a walking bag of bones, and that pretty much represents the BCS score of one. Such an animal would have a very think covering of flesh over its bones. The loin and rump bones would be visible very easily. And there would be a severe depression just where the tail bone ends on both sides.
BCS score of two means under conditioned
A BCS score of two is assigned to a dairy cow with limited skin and flesh cover. The tail head, backbones and ribs are all easily visible. Deep depressions are also visible on the side of the hip bone.
Individual short ribs can be easily felt when touched. The ends of the ribs are also sharp to the touch but may or may not have a reasonable amount of flesh covering over it. Such a cow indicates below than average health. Such a cow may also face problems in giving birth to a healthy calf and producing adequate milk.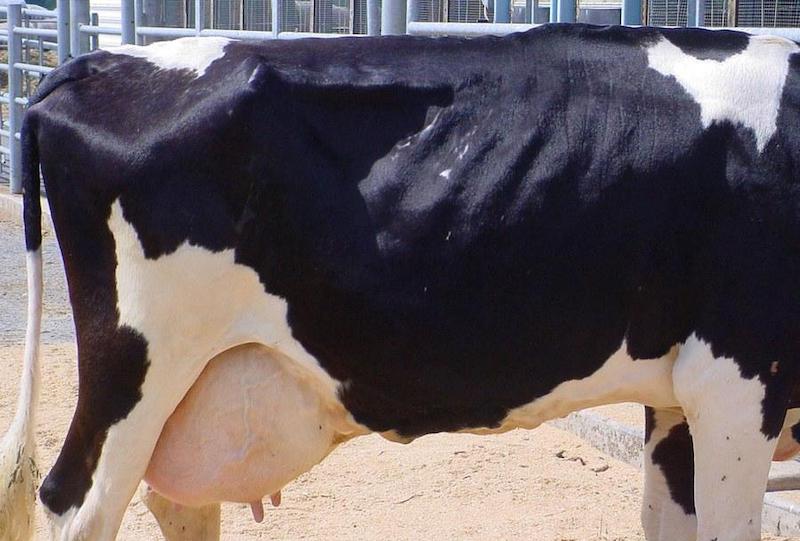 BCS score of three means good condition
A BCS score of three is assigned to a dairy cow with adequate skin and flesh cover.
The tail head, backbones and ribs are not at all easily visible. Instead, they appear to be well rounded. And there are no deep depressions visible on the side of the hip bone.
Also, individual short ribs can't be easily felt when touched because the cow has a reasonable amount of flesh covering over it. However, the ribs can be felt when if you apply some pressure over it. Such a cow indicates average health. Such a cow has a good chance of conceiving a healthy calf and producing adequate milk.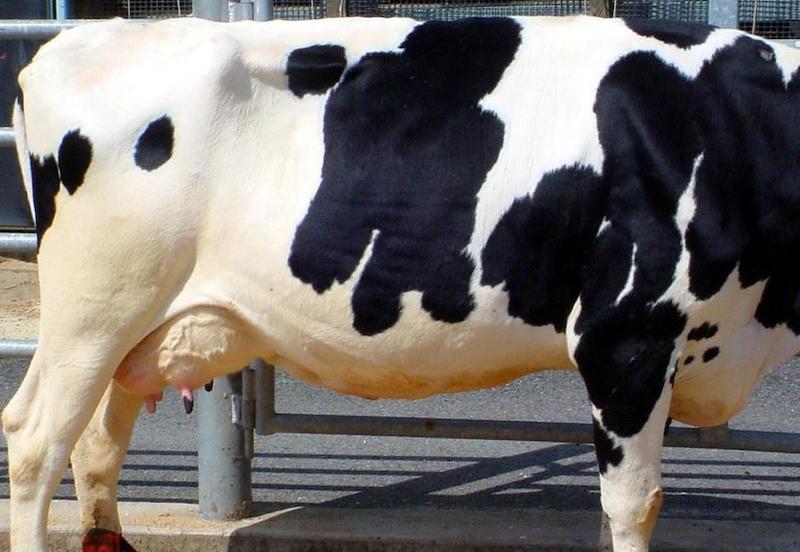 BCS score of four means over-conditioned
A BCS score of four is assigned to a dairy cow with more than adequate fat reserves. The excess flesh covers the tail head, backbones and ribs completely.
You can only feel the hard surface and not the individual bones, no matter how much you pressure over it. The surface near the hip bone is also well rounded. Sometimes such cows may have difficulty in becoming pregnant and in calving. Such cows may also be more prone to milk fever incidences.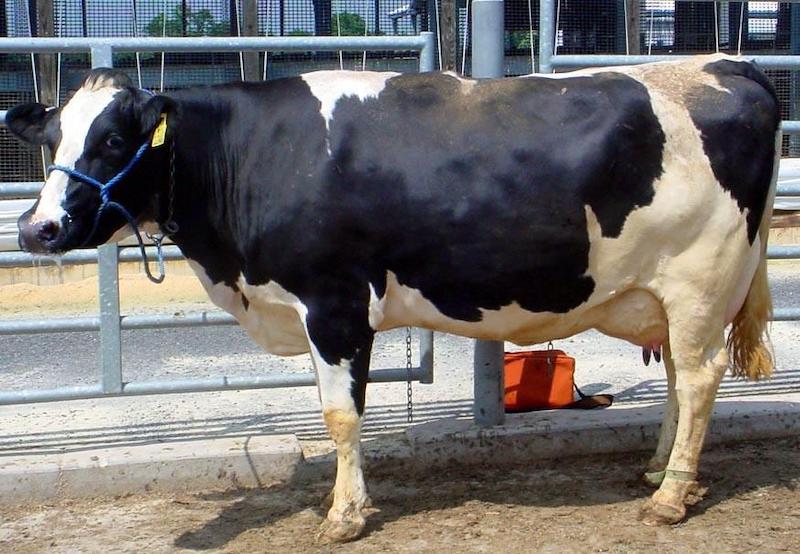 BCS score of five means severely over-conditioned
At the highest score, the backbone is no longer visible. The bones of the short ribs also disappear, and the entire area over the ribs and rump appears to be flat. The tail head area appears rounded. Fat deposits can easily be felt, even when you touch it without applying any pressure.
In addition to this, fat deposits are readily seen on the rump, thighs and legs of the animal. Such cows may face difficulty in calving and may experience several health disorders. Urgent medical interventions might be needed in this stage.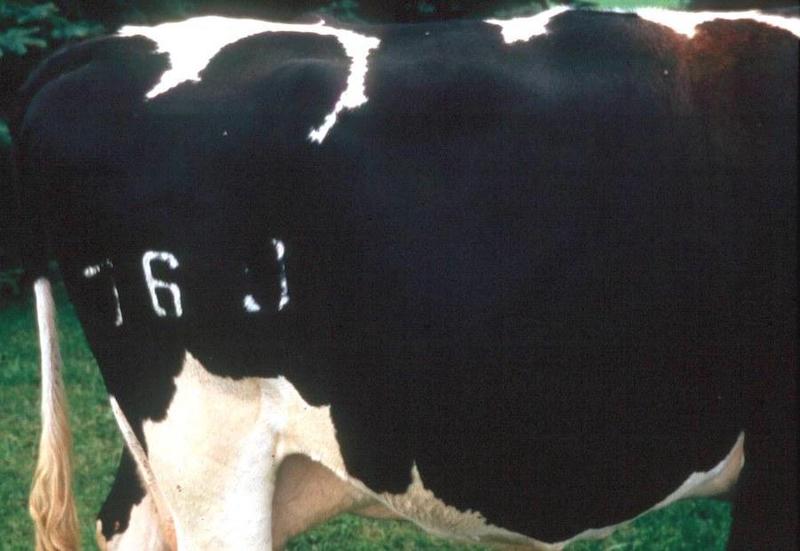 Increments of the 1 to 5 scoring BCS system
For more information, watch this video on how to assess BCS scores, by Penn State Extension University.
But more often than not, in the real world, you won't be able to evaluate BCS system scores so clearly. For instance, you might find that an animal falls in between, say a BCS score of two and three. You might notice that the animal isn't very thin, but at the same time, it isn't in very good condition either.
In such cases, you could use BCS increments of 0.25. So you could rate this cow 2.25, 2.5 or 2.75 depending on how close it is to a BCS of two or three.
Using other BCS scoring systems
As discussed earlier, in the original BCS system, scores range from 1 to 9. A score of 1 indicates a very thin and feeble animal, while a score of 9 indicates a very obese animal. Both are extreme cases that indicate great health risks.
For a complete list of what each score means, take a look at the below table: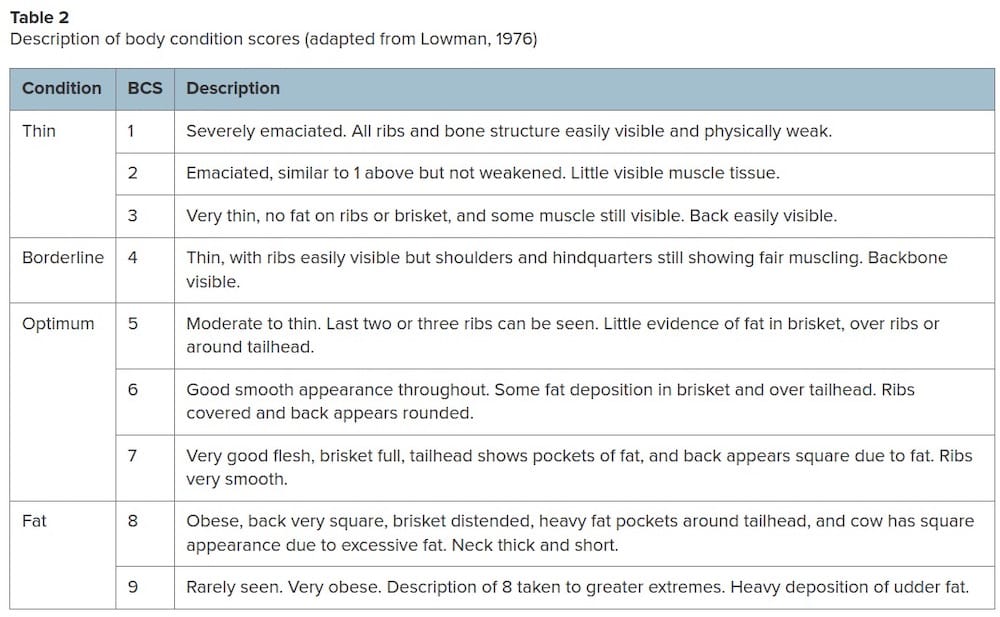 As you can see from the above table, this scoring system has increments of 1, unlike the 1 to 5 BCS scoring system that has increments of 0.25. Also, it has two or three scores indicating each of the four animal body conditions – thin, borderline, optimum and fat.
However, if you are a dairy farmer from Australia, you might be more familiar with the 1 to 8 BCS system that is recommended by Dairy Australia.
This system differs from the traditional 1 to 9 BCS scoring system in two ways. One, it gets rid of score number 9, that was anyways only given very rarely to very obese cows. And two, it allows BCS increments of 0.5, instead of whole number increments.
I know, that sounds like a lot of different systems. So feel free to choose one BCS system suits you better and stick with the chosen system.
Because after all, BCS is only an indicative scoring system that can help you to quickly assess the health of your dairy cow. A system that gives you more information than what live body weight can give you. So go with the system that feels more intuitive to you.
If you still face trouble in determining the BCS of a particular animal, you could always consider getting more advice from a farmer you trust or your local extension officer.
That brings us to the end of this article. I hope it was useful.
To learn more about nutrition, genetics and disease management for your animals, read my free animal health management guide. And learn about how you can improve welfare for your dairy cows.
If you have any questions, drop them as a comment below, and I'll personally answer them for you. Also, please do tell us what you would like us to write about. That will help us serve you better. Thanks.
Until we meet again, happy farming.
- The Dedicated Team of Pasture.io, 2020-09-29