Leslie Quarrell (50/50 Sharefarmer)
Leslie has been a using Pasture.io since the very early days, so we thought it best to catch up and ask him a few questions.
Farming Region:
Trowutta (NW Tas)
Herd Size:
390 milking cows
Calving System:
spring calving
Measuring device:
rising plate meter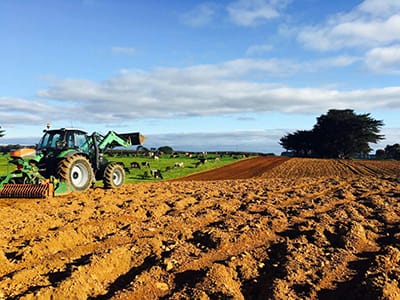 Leslie sowing turnips at Amaroo.
What did you find as a result of signing up to Pasture.io?
You get more of a feel for how your grass is growing, a lot of people measure grass, but if you don't do anything with it you're not going to make the best use of your greatest resource. You see, with the program, I can look back over what I've done in the last 12 months and see where we're at and where we need to be to keep growing more grass. Pasture.io makes the most out of my weekly farm walks and I'm really happy with the results.
Were there any concerns that may have prevented you from signing up to Pasture.io?
Well, there was none, I've looked at other programs but can't find anything that's as straightforward as this one is. You know, it's simple to use, it's just easy, there's nothing hard about it.
What specific feature do you like most about Pasture.io?
I like the grazing planner where you make the grazings. I can easily keep on clicking on where to put the cows and then it's good to go. I then print it out and stick it on the board and all the employees know where the cows are going.
What are the other benefits of Pasture.io?
I like the way the program is always being improved, you know, the new button on the grazing planner has shortened the time it takes to make a week's worth of grazings down to five minutes and I don't know any farmer that does a good job who spends less time than that to make good grazing decisions. After a while, you see what happens on farm and you measure your grass and the program makes you feel like you're using the grass measurements well to make your farm work better.
Would you recommend Pasture.io? If so, why?
Yeah, I'd recommend it to anyone. The reason being, it's just so simple. You know, you spend one day on it and you get the feel for it and everything. I think it just comes to you naturally.