Article Summary:
This article touches on the farm mapping features within the Pasture.io farm app. We hold a different philosophy when it comes to farm mapping to most other mapping apps. We believe that farm maps are not a one size fits all and nor should you be charged like a wounded bull for the benefit of using and updating a farm map.
---
Mapping Farms Intro
We hear stories all the time where farmers are taken for a ride with expensive mapping services. We're here to show you that this needn't be the case. You don't need to pay thousands of dollars to move a fence line on your map. You should have complete independence and ownership of your farm map.
We have become the go-to choice for free farm mapping, even for large corporations. This is because of our commitment to simplicity and transparency in all that we do. Our online map editor allows you to map your farm boundaries, crop types, pastures, and everything else on a custom aerial background or satellite image.
We're going to uncover some of the needs for our farm mapping services.
Farm compliance
Farm compliance is a term that describes the legal compliance required for farms to meet environmental, food safety, and other regulatory requirements.
Farmers are responsible for maintaining their farms in a manner that meets these standards. One way to do this is by using digital paddock maps.
Digital paddocks map out areas of your farm with different soil types or land use zones, which can help you identify any potential issues with runoff or contamination from livestock manure.
You can manage sensitive zones, as well as the effective area, with your accurate map.
These maps also provide valuable information about crop rotation and fertilizer application rates on your property.
This type of information will help you plan for future seasons when it comes time to make decisions about what crops you'll plant or how much fertilizer you'll need to spread around next year.
For these reasons and more, farmers are encouraged to keep digital paddocks of their property.
5 reasons to keep a farm map
Identify problem areas on your farm where soil or water may be contaminated
Keep track of rotation patterns for crops you've planted
Organize crop schedules appropriately with available resources
Apprise yourself of any ordinances or regulations for your area
Identify areas on your farm that require additional investments for future seasons
... And a bonus reason is that an accurate farm map can help with health and safety regulations from a whole business standpoint. Let's not forget biosecurity planning and the health and safety of visitors.
Farm management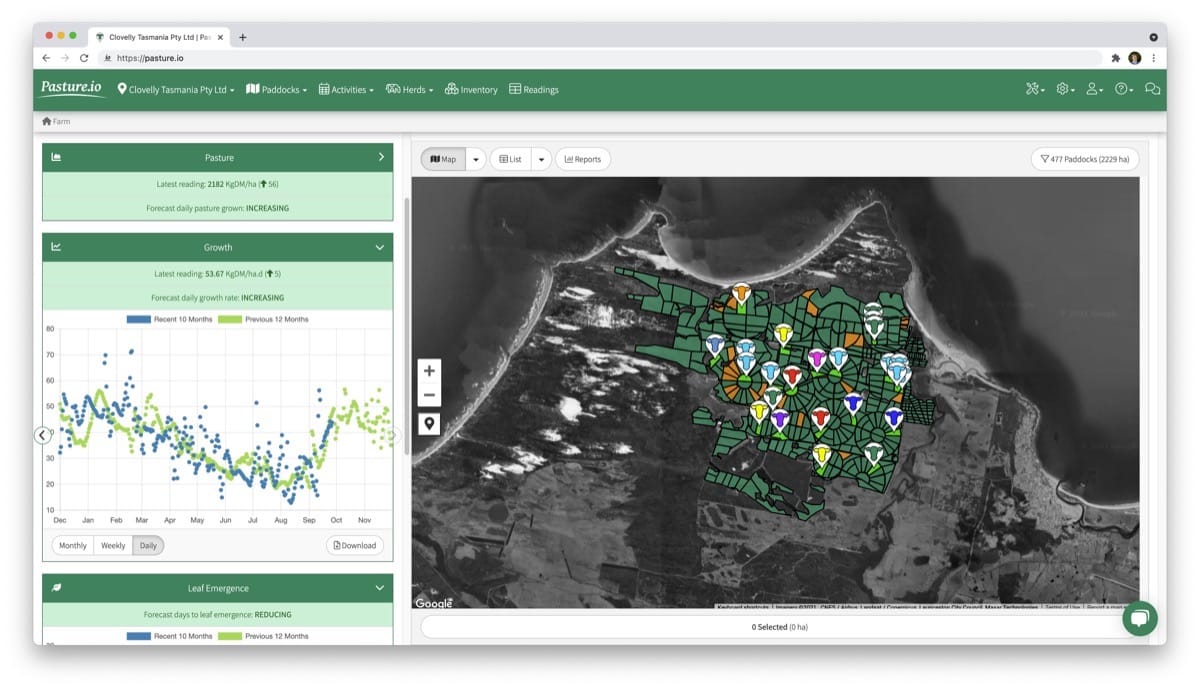 Farm management can be a challenge. If you're not taking advantage of all the resources available to you, it's easy to see why people get overwhelmed and stop trying.
One way to make farm management easier is by using digital paddock maps for your property.
Maps allow you to visually see what is going on and communicate with contractors, farm consultants, employees and regulatory bodies.
Not all of us are clued to reading lists or data tables (I know I'm not, and I get relief from visually recording and viewing paddock records).
Many use our farm map for more than just a pretty representation or just calculating paddock sizes on your land. As a result, the range of uses where farm mapping is integrated throughout the app is enormous.
For example, here is a quick list of some of the features.
Visual of paddocks with spray, planting, or fertiliser withholdings and the many more options.
Ranking of paddocks by heat maps based on satellite indices, pasture cover, or growth rates.
Viewing the age since any paddock was last grazed, applied with fertiliser and many other pieces.
Communication to contractors, employees and yourself of where livestock are grazing or any other paddock activities. We all agree that team communication is key.
Reaping the benefits of planning right on the farm map.
Linked directly with the pasture models and the farm map can be view from most areas of the app on your phone, tablet and computer.
Location tracking of vehicles, livestock with GPS collars and tags through one of our hardware partners.
If farm mapping ain't your thing, but you're here for one, our farm map is linked with reports such as feed wedges,
Mapping farms
Drawing your paddocks
To draw your paddock maps, you need to email us your address or some GPS locations of where you need the maps to be drawn!
You can also upload a picture of your farm with identifying markers for any location on the property. Preferably you send us paddock boundaries that are clearly identified.
Once we have this information, we'll start drawing these maps, so they are ready in no time!
Please note that this service is something we provide free of charge. We believe that all farmers should have the bare basics of digital technology. We believe that all farm information that you can store in a notebook should be free of charge.
That's as simple and quick as it is. Once we have your farm layout, fence lines, paddock names, our mapping team will get to work to create your farm map.
Importing your paddocks
With the above details, we can import any map file that you have. This means you can use Google maps, aerial photos or even your own hand-drawn map that is neatly recorded on paper!
We need to know the scale of the picture you are importing into our farm management software. We also need to be able to read boundaries on the map.
So for this reason, we strongly recommend using something like Google Maps or Google Earth. This way, you can produce a clean KML or KMZ file.
If you've had your farm professionally mapped or paid for these services, we can take other files such as Shapefiles, GEOJson and so on.
Much the same as drawing, we can quickly import and create your map for free.
Sounds generous, right?
We look at this exercise as building a long and lasting relationship with each of our farmers. So whether you have a new paddock to map or want to determine the paddock sizes of your land, feel free to talk with us today.
Mapping services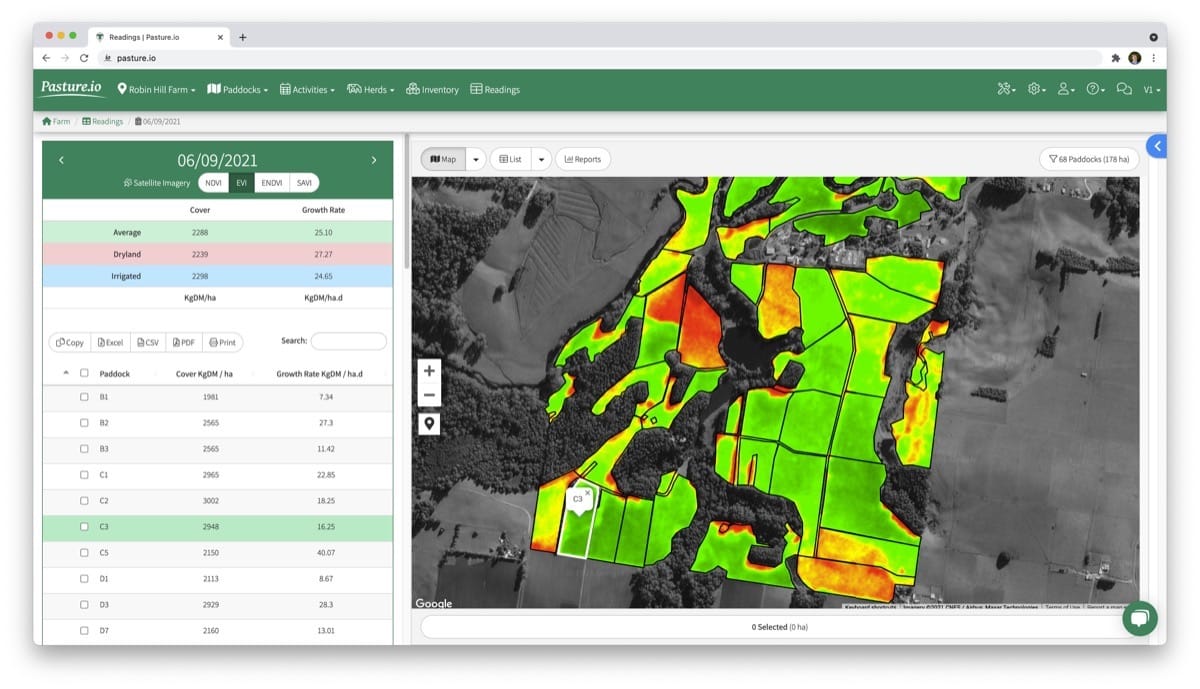 Our farm mapping ethos
We often have people who come to us who are searching for farm apps for mapping farms. Though we're not strictly a farm mapping service, geographical information systems (or GIS to keep things simple) is in our veins.
By mapping farms, we get to build a relationship with you and help you realise the full potential of a farm app that can create a map of your farm!
Farm map information
View paddock details
It doesn't matter when you record paddock activities such as fertiliser events, cattle or sheep movements, whether you're on a dairy farm, rangeland station, or extensive grazier. All of this mapping and planning information is as important to one enterprise as another.
Satellite imagery
Many apps and decision support tools claim to provide satellite imagery or aerial imagery of your land, but this is usually no more than a Google Earth image.
Google Earth and similar tools require you to use a mouse and drag and drop your paddocks onto their respective spots on the farm.
This is certainly not an effective way of managing your farming business.
To accurately map your farms, we use Google Earth images only for reference. However, we then overlay the boundaries that are identified, such as fences.
If you want real analytic and accurate aerial images from satellites, we can provide these too.
The great thing about analytics is that you can pick up issues in your pasture such as moisture stress from a blocked pivot irrigator, or poorer growth areas from poor soil nutrition and so on.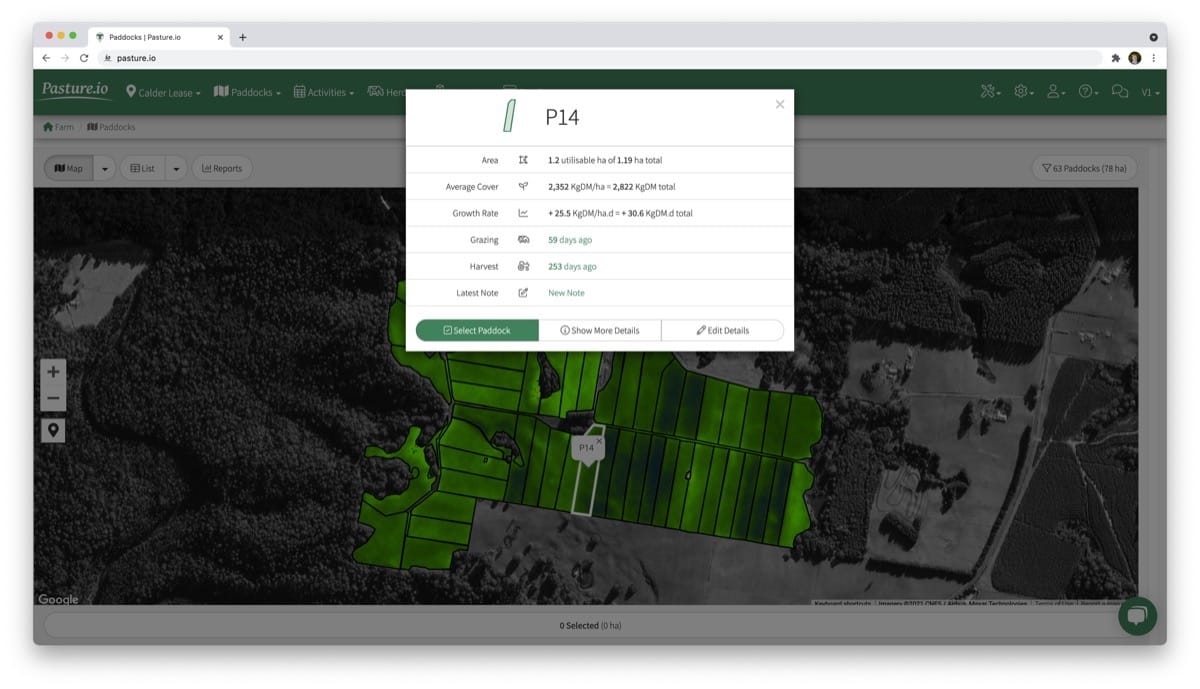 If you're interested in learning more or would like to integrate your paddock records with a powerful list, map, and reports, then talk with us today and we'll digitise your farm map with our app.
Until we meet again, Happy Farming!
- The Dedicated Team of Pasture.io, 11 August 2021