Everything you need to know about DairyNZ
DairyNZ is the dairy industry organisation that represents all New Zealand dairy farmers. Learn more about you can benefit from its various on-farm tools, research, resources, support, advocacy and funding projects.
The Way Forward & DairyNZ's Plan for 2020
Consumer buying preferences, technology and our environment, are all rapidly changing the face of dairy farm businesses across the world. But Dairy NZ and the country's farmers are up to this challenge.
In the words of Dairy NZ, taken from their website: The next era of the dairy strategy recognises the importance of being transparent and open and continuing to provide the natural, high-quality products that we are known and famous for the world over.
In 2020, Dairy NZ is set to invest in the following projects:
Commitment #1: Protect And Nurture The Environment For Future Generations
Catchment water quality case studies
Water quality policies
The transition of water accord to dairy tomorrow
Greenhouses gases
Commitment #2: Build The World's Most Competitive And Resilient Dairy Farming Businesses
An integrated farm planning framework
Farming with confidence
Biosecurity
Forage Value Index
Low N research
Heifer study
New Zealand Animal Evaluation Ltd (NZAEL)
Commitment #4: Be World Leading In On-Farm Animal Care
Farm pilots
Workshops and events
Bobby calf alternatives
Commitment #5: Build Great Workplaces for NZ's Most Talented Workforce
The primary sector skills system
Developing leaders program
Avoiding milking injuries
Commitment #6: Help Grow Vibrant and Prosperous Communities
The vision is clear – year two.
For any further questions or information about Dairy NZ, please write to [email protected] or call 0800 4 DairyNZ (0800 4 3247969). That brings us to the end of this article.
Perhaps you found this information useful and are involved with dairy farming in New Zealand.
As discussed in this article, New Zealand offers a unique competitive advantage because it offers the perfect environment to grow pasture as a cheap and highly nutritious feed source.
For any information on how to increase your farm profits from your pasture, write to us at

[email protected]

or signup to one of our free or paid plans.
Towards Building Great Workplaces
For dairy farm businesses to flourish over the next decade, Dairy NZ recognises the need to attract talented people with the right skills into the industry.
To achieve this, it is working with farmers to establish employment best practices. It is also creating several sector initiatives to attract new talent and retain existing talent.
Here are a few great workplaces projects projects that DairyNZ invested in 2018-19. All the below project descriptions and snippets were taken from their 2019 Annual Report.
Quality Work Environment
This project leads to the implementation of the Workplace Action Plan, supporting employers and employees to build quality work environments on dairy farms. A key focus is working with farmers to support learning and implementation of improved workplace practices.
The project also involves other stakeholders in developing and maintaining tools and resources and monitoring and evaluating the impact of good people management. It is also working with government agencies around on immigration law and farm safety regulations.
Provider: Dairy NZ Ltd Funding: $1,055,000 (ex. GST)
Dairy Learn
This project is responding to the year-on-year decline in the number of people participating in learning experiences, both in a formal setting with the Primary ITO and informal settings such as discussion groups. The project aims to ensure the learning system for the dairy sector is fit-for-purpose and delivers required learning in a way that meets dairy farmers' needs. It focuses on:• Review of learning needs to ensure focus on the right things at the right time for employers and employees. • Coordination of sector organisations to consolidate effort, leverage efficiency, and integrate formal and non-formal learning. Significant reform in the vocational education sector has overtaken this initiative.• Investigating both how people are engaged in learning and how learning is delivered.
Provider: Dairy NZ Ltd Funding: $440,000 (ex. GST)
Getting into Dairy
This project promotes dairy to youth to attract them into the sector, either on-farm or in the service and support sector. It aims to assist the sector in attracting, developing and retaining highly-skilled, motivated people, be they farm managers, scientists, research technicians and rural professionals.
Provider: Dairy NZ Ltd Funding: $876,787 (ex. GST)
New Workplace Design
Future dairy workplaces will need to be attractive places to work, so the best and brightest want to choose a dairy career. However, what makes a workplace attractive is continuously changing and is influenced by a variety of factors, both on and off the farm. DairyNZ's New Workplace Design project takes a future-looking perspective in creating great dairy workplaces for 2030. Farmers are involved in co-developing solutions that work for them, as well as actively researching the impact and performance of people management and workplace solutions. This will give farmers added certainty about the value of investing in different approaches to people management. They will also have greater certainty about which approaches fit their context and how to implement them in practice.
Provider: DairyNZ Ltd Funding: $436,940 (ex. GST)
Primary ITO Funding
DairyNZ and the Primary ITO are jointly developing capable people to grow the productivity, profitability and sustainability of New Zealand's dairy sector. The Primary ITO contributes to this objective by developing qualifications and programmes, identifying dairy workers' skill gaps and promoting, brokering and supporting training to meet the competencies required for sector standard roles.
Provider: Primary Industry Training Organisation Funding: $1,071,546 (ex. GST)
Towards Becoming World Leaders in Animal Care
As we speak, consumer buying preferences across the world are shifting towards more humane animal farming sources.
New Zealand dairy farmers have always taken great pride in caring for their animals. And Dairy NZ is working with the farmers to develop and implement a framework that ensures every animal is well cared for.
Here are a few animal care projects that DairyNZ invested in 2018-19. All the below project descriptions and snippets were taken from their 2019 Annual Report.
Facial Eczema
A better managed facial eczema (FE) programme will favourably impact the welfare, productivity and sustainability of national pastoral farming operations. This project aims to provide a clear understanding of the effects this disease is having on adult dairy cattle in the short and long-term to enable farmers to improve their management of FE.
Provider: Veterinary Enterprises Group Ltd (VetEnt) Funding: $35,400 (ex. GST)
Animal Care Progam
Practice Change: This project provides motivation and easily implemented solutions to encourage practice change. Included are opportunities to be ahead of emerging issues, preparing farmers for regulation changes and updating well-understood practices with the latest research findings.
Early Response Service: This service links farmers on at-risk farms with the support required to farm their way out of the risk. This area of work partners with other businesses and NGOs in the dairy sector.
Monitor and Measure: To help target resources to areas of greatest need, the Monitor and Measure team carries out 500 on-farm animal care consultations to better understand existing and emerging animal care practices and provide support as needed.
Plan for the Future: This work helps guide Government policy and looks at future national requirements. Cross-sector work ensures balance across all species of livestock, as well as ensuring good welfare for dairy cattle after they leave the farm. This is achieved through multi-agency working groups.
Provider: DairyNZ Ltd Funding: $1,428,246 (ex. GST)
Managing Welfare Risks in Pastoral Dairy Farming
The goal of this research programme is to reduce specific areas of welfare risk to New Zealand's dairy-based economy and to provide knowledge that can be used to guide farming practices, improve market success and ultimately enhance animal welfare on New Zealand dairy farms.
Provider: AgResearch Funding: $300,000 (ex. GST)
Towards Building Competitive & Resilient Dairy Farming Businesses
For New Zealand's dairy farm businesses to stay relevant, they need to be both resilient and internationally competitive.
Dairy NZ works on several initiatives and future-focused technologies to improve both resilience as well as competitiveness by increasing farm productivity and profits.
Here are a few biosecurity, research and future technology projects that DairyNZ invested in 2018-19. All the below project descriptions and snippets were taken from their 2019 Annual Report.
TB National Pest Management Strategy
This investment aims to control the spread of tuberculosis (TB) through disease management – detecting TB within herds through an extensive testing programme. It also completes wild animal (vector) control to eliminate TB from wildlife, particularly possums – as the main carriers and transmitters of TB to farmed cattle and deer. Lastly, this work covers movement control – minimising the risk of infection being spread between herds.
Provider: OSPRI Funding: $14,500,000
NZAEL Operations and Research
Genetic gain in dairy cattle has a proven track record in delivering higher productivity and profitability to farmers. The NZAEL-owned Breeding Worth system ($BW) provides the measure for genetic gain. This genetic gain is delivered to farmers by bull breeders and animal breeding companies. Maintaining and improving the $BW system and the underpinning phenotypic data, genetic research, and delivery systems is vital in achieving sector targets, especially in profitability, and is the focus for this project. The project ensures NZAEL applies robust and world-leading science to animal evaluation, thereby ensuring optimal rates of genetic gain are achievable.
Provider: New Zealand Animal Evaluation Ltd Funding: $1,982,400 (ex. GST)
Forage Value - Supporting Research
This project aims to lay the basis for a Forage Value Index (FVI) that is scientifically-based, objective, appropriately weighted for all critical traits and accurately calibrated for on-farm conditions. The FVI will define key plant traits for sustainable and competitive dairy systems.
Provider: Dairy NZ Ltd Funding: $1,700,000
DairyBase
DairyBase is the New Zealand dairy sector's platform for the analysis, storage and comparison of standardised dairy farm data. This project aims to increase the uptake and adoption of DairyBase among farmers, to improve and inform the quality of the benchmarking data sets and farm business data for analyses and research. On their own, or with the assistance of accountants, consultants or DairyNZ consulting officers, farmers can compare their business to New Zealand benchmarks or models, and make informed decisions on-farm management. DairyBase is investigating ways to improve connectivity with third parties using Data Linker (where possible) to facilitate data exchange.
Provider: DairyNZ Ltd Funding: $938,688 (ex. GST)
Biosecurity Risk Assessment & Policy
The biosecurity programme aims to ensure current, and future biosecurity risks to the dairy sector are adequately understood and communicated to relevant stakeholders, and appropriate readiness and response systems are in place at farm, industry and NZ Inc. level.
Provider: DairyNZ Ltd Funding: $829,887 (ex. GST)
MBIE (Ministry of Business, Innovation and Employment) Low N Livestock
This project's objective is to deliver transformational animal genetics that, according to previous farm systems and hydrological modelling, will reduce nitrogen leaching and greenhouse gas emissions as well as improved tools for evaluating/regulating environmental impacts. By 2026, breeding values to reduce nitrogen leaching will be available for all dairy cattle and widely marketed to and used by dairy and beef farmers through commercial breeding companies. The effects of improving herd-level nitrogen excretion by combining genetic and management mitigations will be successfully integrated into Overseer, allowing farmers and regional councils to understand their impacts on nitrogen leaching and develop strategies to meet environmental targets. Farmers will use these tools to transform their herds and minimise their environmental impacts.
Provider: DairyNZ Ltd Funding: $1,274,708 (ex. GST) Funding matched by MBIE.
Hybrid Grasses
A work programme has been developed that will see the first commercial hybrid cultivars available in 2023. There is clear proof of concept for the technology, and this project aims to develop the 'turn-key' technology package that includes parent lines and heterosis maps required for other commercial players to pick up the technology. Research work includes testing the proof of concept in New Zealand, including understanding the agronomy and physiology behind any superior performance.
Provider: Dairy Australia Funding: $968,498 (ex. GST)
Southern Dairy Hub research
This project aims to measure the animal welfare and husbandry risks of new and existing dairy farm systems and practices, and new systems being developed by researchers and farmers. The practice of wintering cows on the crop (kale and fodder beet) has been identified as a topical issue. There is a growing concern of animal health and welfare issues when cows consume high quantities of fodder beet. This high-energy feed is deficient in some essential minerals (namely phosphorus) and low in protein. A monitoring study is underway at Southern Dairy Hub. Four groups of 80 cows are being studied to assess the impact of different winter feeding options, and their carry-over effects into lactation.
Provider: Dairy NZ Ltd Funding: $909,000 (ex. GST)
Plantain Research
This project aims to support wide-spread adoption of plantain in targeted catchments by providing evidence of the farm-scale nitrogen leaching and systems impacts. The project covers a critical phase in the development and delivery of a longer-term, multi-disciplinary, multi-institution research and development programme which aims to build farmer, general industry and regional council confidence in the effectiveness of plantain-based forages for reducing nitrate leaching from grazing dairy systems. Inextricably linked to this outcome, for farmers and the dairy sector in general, is robust evidence that dairy systems based on plantain forages can match or exceed traditional ryegrass-based systems in production and profit, or if they cannot, identify the circumstances under which the expected benefits of plantain for nitrogen leaching give farmers a clear option to continue low-cost dairying rather than change to capital-intensive options such as housing animals.
Provider: Dairy NZ Ltd Funding: $811,778
GM Forages
AgResearch has developed a genetically modified (GM) ryegrass that in the glasshouse has produced both higher levels of energy (through increased lipids) and higher growth rates (an increase of 40%) through more efficient photosynthesis. To progress the development of these plants and potentially release them in New Zealand requires further research, including field trialling off-shore. Without compelling field data, there will not be a basis for a fact-based discussion on the merits and costs of a GM ryegrass release in New Zealand.
Provider: AgResearch Funding: $750,000 (ex. GST)
Towards Protecting & Nurturing the Environment
To help the country's dairy farmers to farm within environmental limits, Dairy NZ is taking a collaborative approach that involves local communities, the government and other stakeholders to:
Improve the health of local water bodies
Protect and enhance the local biodiversity
Develop a vision of sustainable land use
Reduce dairy farming greenhouse gas emissions
Here are a few environment projects that DairyNZ invested in 2018-19. All the below project descriptions and snippets were taken from their 2019 Annual Report.
Aparima Good Farming Practice
This project will achieve the rapid adoption of Good Farming Practice (GFP) at pace and scale by 2022 by supporting dairy farmers and dairy graziers in getting a Farm Environmental Management Plan in place by May 2020 and providing extension support to demonstrate GFP on-farm.
Provider: Dairy NZ Ltd Funding: $217,708 (ex. GST)
Environmental Reporting
Through this project, tools have been developed to help dairy farmers estimate the environmental footprint and record and report on the array of environmental initiatives undertaken to improve water quality. In collaboration with the Our Land & Water National Science Challenge, the Catchment Accounting Framework modelling tool has been developed to estimate contaminant loads, enabling the source and amount of nitrogen and phosphorus entering waterways to be estimated across all catchments throughout the country. With this information, we can calculate dairy load relative to other land use, and better direct efforts to improve water quality to where it will make the most difference. The Environmental Reporting project was also responsible for delivering the fifth year of the Sustainable Dairying: Water Accord – one of the sector's most significant commitments to improving water quality across a broad range of farm system and mitigation management. The Accord has led the way in demonstrating how dairy farmers can and do respond without the need for regulatory drivers when there is a clear challenge to solve.
Provider: Dairy NZ Ltd Funding: $471,028 (ex. GST)
Climate Change Policy
This project is focused on the impacts of potential climate change-related policy frameworks on dairy farmers, dairy processors and the national economy. It provides scientific modelling and economic analysis, interpretation and commentary on the sector's on-farm greenhouse gas trajectory, and current and future mitigations. It also ensures the sector is well-placed to contribute to a domestic climate change policy framework.
Provider: Dairy NZ Ltd Funding: $759,918 (ex. GST)
Environmental Readiness/ Productive Riparian Buffers
Understanding and being prepared for future environmental regulations are central to this project. Included is understanding environmental risks and drivers, dairy's environmental footprint and potential on-farm and catchment solutions, and the implications of different policy options on farm businesses and catchment, regional, national, environmental, economic and social values. Additional workstreams will develop and integrate the farm and catchment tools required to derive this understanding, and develop policies, strategic positions, and a vision of how the sector can operate under increasing environmental regulation over the longer-term. Collectively, this framework supports future regional limit setting process and integrates and builds on the knowledge and products developed through four allied projects – Systems for the Environment, Systems that Work, Designing the Future and Productive Pastures.
Provider: Dairy NZ Ltd Funding: $1,021,757
Farming with Limits
Through this project, regional environmental work plans encompassing all science, policy, economic and engagement activities related to current regional limit setting processes will be re-established across ten regions. This ensures a targeted and coordinated response to environmental issues for farmers and stakeholders in each region and lays a platform that will integrate with plans for the regions. Once regional policies take effect and on-farm change is required, support with implementation will be provided through the Meeting Environmental Obligations project and regional dairy environmental leaders. Three priority regions for supporting farmers in meeting environmental obligations have been identified – Waikato, Canterbury and Horizons.
Provider: Dairy NZ Ltd Funding: $2,727,202 (ex. GST)
DairyNZ's Strategic Commitments
To ensure the long-term success of New Zealand's dairy farmers, Dairy NZ along with industry partners Federated Farmers, Dairy Companies Association of New Zealand, and the Dairy Women's Network – developed the Dairy Industry Strategy.
The industry partners identified six commitments that drive the Dairy Industry Strategy. DairyNZ is working closely with farmers, the government and other stakeholders to deliver on the following six commitments.
To produce the highest quality and most valued dairy nutrition.
To help grow vibrant and prosperous communities.
And all of Dairy NZ's investments go towards projects that drive one of these six commitments. Next, we'll see a few big projects that Dairy NZ invested in and how this relates to the Dairy Industry Strategy.
DairyNZ's Revenues in 2018-19
As discussed earlier, DairyNZ raises most of its revenues through the milk solids levy that farmers pay. In addition to this, it also raises funds from the government and other organisations.
And finally, it also raises money by exchanging assets, goods, research knowledge or services.
In 2018-19, Dairy NZ raised a little more than ten million dollars from exchange transactions alone.

It also raised more than 67 million dollars from the levy that farmers paid them. The levy income alone accounted for more than three-fourths of their total income in 2018-19. And finally, it also raised another 8 million dollars from other funding sources such as MBIE and the Sustainable Farming Fund.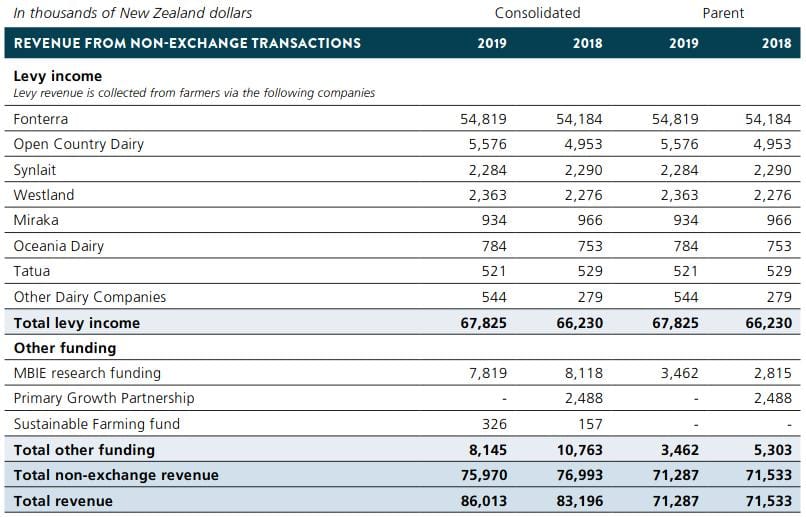 Altogether, DairyNZ raised more than 86 million dollars in 2018-19. To understand, where Dairy NZ invested this money, we first need to understand its strategic commitments. That is next.
The Dairy Regions of New Zealand
New Zealand has two main islands – the North and South Islands.
North Island is home to 58.4% of New Zealand's dairy cows. Within North Island, Waikato has the most number of herds accounting for 22.6% of the total dairy cows. Taranaki comes second, with 9.4% of dairy cows.
Dairy cows in South Island add up to 41.6% of all cows milked. Here, North Canterbury and Southland have the highest concentrations of dairy cows with 14.3% and 12.0% respectively.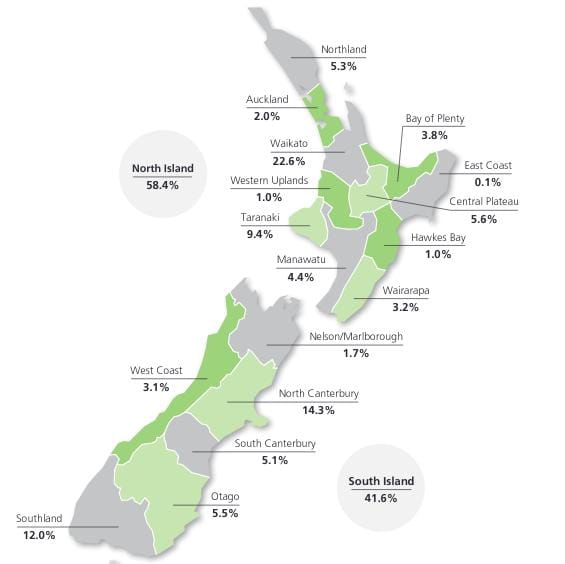 Dairy NZ mainly works with farmers to improve productivity, resource use efficiency, sustainability and profitability. Find out more about the regional projects here.
Dairy NZ has several regional teams that work locally with farmers to help them become more successful. You can find the contact details for your local teams here.
In 2018-19, here are a few programs and interventions that happened across a few regions:
In Northland, Dairy NZ ran a farmer learning and extension called Extension 350. This long-term program is in its third year and has covered all ten farmer cluster groups in this region. In addition to other training, this program provides participating farmers with an opportunity to go through Dairy NZ's premier business course – Mark and Measure.
In Bay of Plenty, Dairy NZ held a series of workshops to help farmers combat Mycoplasma Bovis and protect their dairy farm businesses. Pioneering farmers from this region also showcased various ways to effectively manage dairy shed waste to other farmers on-farm effluent field days. And finally, an on-farm roadshow called Informative Plan Change helped farmers learn more about the upcoming regional plan change requirements.
In Waikato, Dairy NZ has been closely working with the region's farmers to help them prepare and present their individual submissions for the Healthy Rivers Project. The hearings were held last year in September. And now the hearing commissions are set to make their recommendations. In addition to this support, Dairy NZ also held 240 discussions groups, more than 50 events and 6 Progressing with Profit field days.
In Taranaki, Dairy NZ has been working with the region's farmers on effluent consents. As the renewal for this is coming up in a couple of years, Dairy NZ has been holding a series of workshops called Fit-for-Purpose to help the farmers understand the effluent consent process and help them evaluate their options.
In Lower North Island, Dairy NZ has been investing a lot of time, effort and money into the Tararua Plantain Project. Researchers are in the process of collecting data from field trials on the benefits of having plantain stalks in local pastures. As part of this project, ongoing work includes monitoring the progress of plantain paddocks, developing case studies of farmers using plantains in their pasture and an engagement program to help other farmers understand more about this project.
In the Top of South Island, Dairy NZ has worked with the regions farmers to establish the Dairy Base benchmark. More than 20% of all dairy farms in the region have entered information into Dairy Base. Last year also saw good support in terms of farmer participation across two West Coast Farmers Forums. And finally, by dealing with the setbacks of the Nelson fires and drought in Golden Bay, farmers of this region showed exemplary character and support.
Last year, in Canterbury and North Otago, Dairy NZ mainly focused its interventions on environmental and labour issues of the region. It also began the 5-year Selwyn-Hinds Project to help farmers equip themselves to meet Nitrogen loss requirements without compromising on their profit margins. To showcase a range of practical options, Dairy NZ has partnered with 30 farms in this region.
In Southland and South Otago, Dairy NZ focused on wintering systems and new winter crop research projects at the Southern Dairy Hub. It also hosted a range of events such as Smart Wintering to encourage and promote good wintering practices. Dairy NZ also continued to support the Catchment Group Network, through the Aparima Catchment Environment Project.
Next, let's look at the different sources and breakup of revenues that Dairy NZ attracted in 2018-19.
DairyNZ's Leadership Team
Dr Tim Mackle, Chief executive, has been leading Dairy NZ as its chief executive since its inception in 2007. Before that, he was the chief executive of Dexcel. And before that, Tim was general manager of Anchor Ethanol, a subsidiary company of Fonterra. Tim holds a PhD in animal, food and nutritional sciences from Cornell University, New York.
Dr Bruce Thorrold, New Systems & Competitiveness, is one of the three strategy and investment leaders in Dairy NZ. Before this, Bruce led the farm systems research team at Dexcel. He was also involved with the Holstein Friesian Strain Trial and the Lake Taupo policy process. And before that, he was with the Ministry of Agriculture and Fisheries for 15 years, working in soil science and catchment management.
Dr Jenny Jago, Farm Performance, is one of the three strategy and investment leaders in Dairy NZ. She first joined Dairy NZ as a scientist in 2001 and was involved in the Greenfield Project, researching the application of automatic milking to New Zealand farming systems. Prior to Dairy NZ, Jenny was a researcher at AgResearch CRI and has also spent time at Teagasc Moorepark, the National Dairy Research Centre in Ireland. She holds a Doctorate of Philosophy in animal sciences, animal physiology, behaviour and meat science.
Dr David Burger, Responsible Dairy, is one of the three strategy and investment leaders in Dairy NZ. In this role, he leads all work related to environmental sustainability, community engagement and biosecurity. David is a water quality scientist by training and has over 18 years of experience in applied water resources management. He joined Dairy NZ as a water quality specialist in 2013 and became manager of the environment team in 2015 before joining the executive team in March 2018. He holds a PhD in limnology and an MSc in freshwater ecology from Waikato University.
Vanessa Winning, General manager – farm performance, Vanessa leads a team comprising the farmer experience, farm practice change, marketing, product development and engagement areas of Dairy NZ. Vanessa's experience includes 15 years in banking in various product, marketing and relationship roles. She has a PG Diploma in Marketing and is an Agri-Women's Development Trust Escalator alumni.
Dr David McCall, General manager – new systems and competitiveness, David leads the team that provides farmers with new solutions that aim is to increase farmers' profit from productivity by $110/ha/year. David, was previously with Dexcel, as its general manager of development, extension and research roles. He has also been a farm systems scientist at AgResearch. David holds a PhD in agricultural economics and farm management.
Jenny Cameron, General Manager – Responsible Dairy, Jenny has been leading the responsible dairy team since August 2018. Before that, she was the inaugural chief executive of the Electricity Retailers' Association of New Zealand, and before this, she was director of external relations for the Brewers' Association of Australia and New Zealand. Jenny has served in various roles at the Ministry of Foreign Affairs and Trade for ten years and was a diplomat in Japan for four years.
David Evans, General manager – corporate services, David has been associated with Dairy NZ for over 12 years now and was recently appointed to this role, where he oversees finance, HR, ICT and safety. Before this, he has been Dairy NZ's financial controller and later as a chief financial officer. David is also Dairy NZ Group's company secretary, and one of the directors of the Southern Dairy Hub. He has a Bachelor of Commerce and is a member of Chartered Accountants Australia and New Zealand.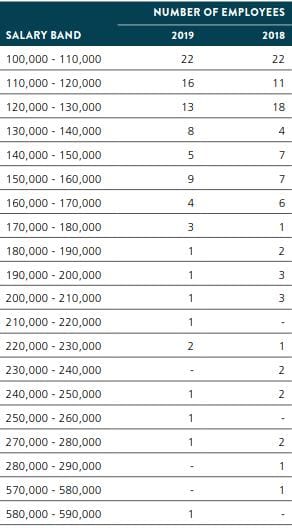 In addition to this leadership team, Dairy NZ has 11 Directors and 6 Directors of DairyNZ subsidiaries. They also have 90 full-time employees.
Next, let's see how Dairy NZ works across the dairy regions of New Zealand.
As discussed earlier, in an attempt to consolidate the dairy industry, Fonterra was formed in 2001, after disestablishing the legacy New Zealand Dairy Board.
After that, the first levy vote was held in 2002, and the first milk solids levy was introduced in June 2003.
So, all milk producers in New Zealand pay a levy. This includes all dairy farmers, sharemilkers, and dairy farm leaseholders. The levy rate is currently 3.6c per Kg of Milk Solids and has been so since 2008.
This levy is calculated based on how much milk solids is supplied to the dairy company.
For example, if a dairy farm milks 400 cows, and on average each cow yields about 360 Kg of milk solids per year, the farmer will pay the following levy:

400 cows x 360 MS per cow = 144,000 Kg of MS x Annual levy 3.6 cents = $5184 (plus GST)
As a result, every year, Dairy NZ collects around 67 million dollars of milk solids levy.
And to ensure that this is invested in the right areas, Dairy NZ has an eight-member board of directors and a senior leadership team that together take up investment decisions on behalf of the dairy farmers.
Since Dairy NZ is accountable to the farmers, they have stringent auditing and reporting processes in place. According to Dairy NZ for every dollar that dairy farmers invest, the government and other organisations co-invest a further dollar and eighty cents.
An independent economic evaluation of Dairy NZ's key investments showed that farmers get at least 15 dollars in return for each levy dollar they pay. This return on investment was based on improved productivity, increased profitability, reduced costs, better efficiencies and anticipated lower taxes.
In 2020, when farmers were asked to cast their vote on whether or not the milk solids levy should continue, Dairy NZ received a 74% vote (by % of milk solids) in favour of continuing the levy.
Next, let's learn more about Diary New Zealand's leadership team that is responsible for getting results.
New Zealand's Competitive Advantage
Today, it is estimated that we have more than 100 million dairy farms across the world. Collectively they produced nearly 850 million tonnes
of milk in 2018.
In this competitive dairy landscape, New Zealand dairy farmers continue to dominate the export market. And they do so despite not having any government subsidies, the long distance away from its main markets and its short productive season.
Why? Because New Zealand has certain competitive advantages. Some natural and the others a result of prudent decisions.
#1 Favourable Weather & Natural Resources
New Zealand is naturally blessed with fertile soil, abundant water reserves and a cool temperate climate. All this makes it extremely suitable to grow a lot of grass. This is why pasture-based dairy farming is a big part of New Zealand's dairy industry.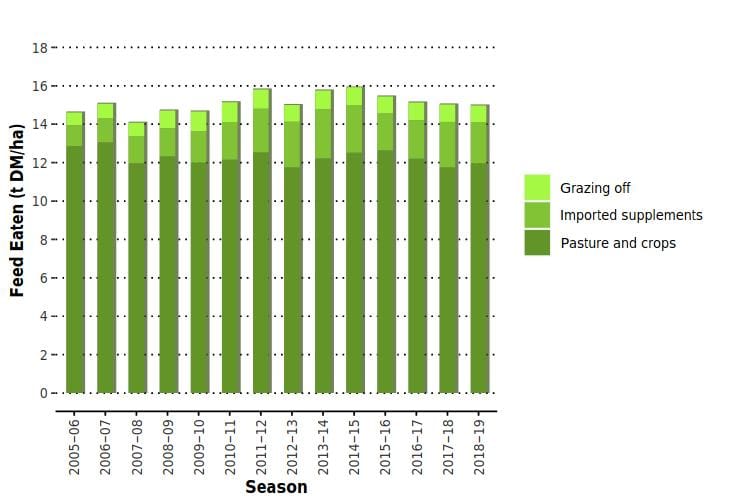 As you can see from the above picture, around 80% of the feed in New Zealand is based on pasture and crops, grown in the farm.
#2 Favourable Geography & Location
New Zealand is also favourably located. It is far away from the equator and therefore does not have scorching summers. Nor is it too close to the polar ice caps and therefore does not have extremely unproductive seasons through the year.
And finally, it is an island, so it is naturally protected from invasive species and pests to a large extent. All these are massive advantages in favour of New Zealand's dairy production systems.
#3 Favourable Market Demand
Because New Zealand is located in Southern hemisphere, and its biggest markets are in the Northern hemisphere, there is a natural supply - demand fit.
Since the two hemispheres have opposite seasons, the productive season of New Zealand nicely complements the off-season in its markets. Instead of resting on this, New Zealand has also invested in R&D as well as processing.
In other words, it has taken maximum advantage of this market demand.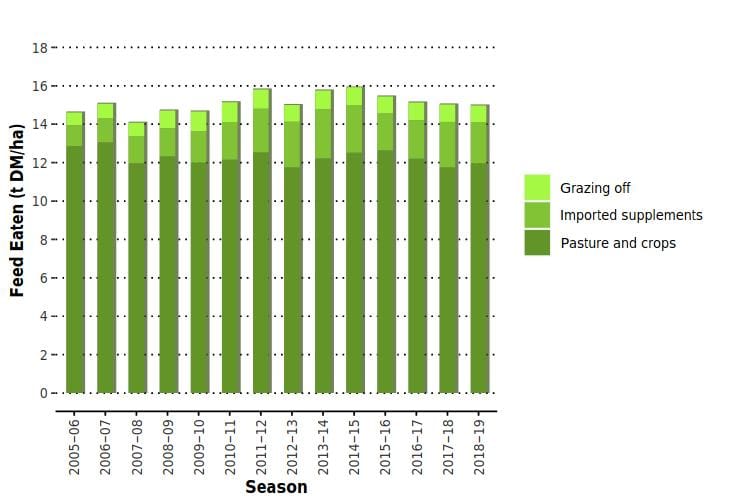 To summarise, the key strengths of New Zealand's dairy industry include:
Pasture-based farming systems
Large-scale processing
And high levels of investment in R&D
Dairy Farming in New Zealand: The Past, Present & Future
The Leading Milk Exporter Today
The first dairy farms began in New Zealand as early as the mid-19th century. The first dairy processing factory was established around 1875. And New Zealand began exporting butter as early as 1882.
Today, New Zealand produces and exports a wide range of dairy products. These products include whole as well as skimmed milk powders, butter, cheese, ice creams and other specialised dairy ingredients for the global foodservice industry.
Despite contributing only around 3% to the world's annual milk production, New Zealand accounts for nearly 25% of all exported dairy products. It is also the leading exporter of milk worldwide.
New Zealand's biggest export markets continue to be the USA, China and Japan.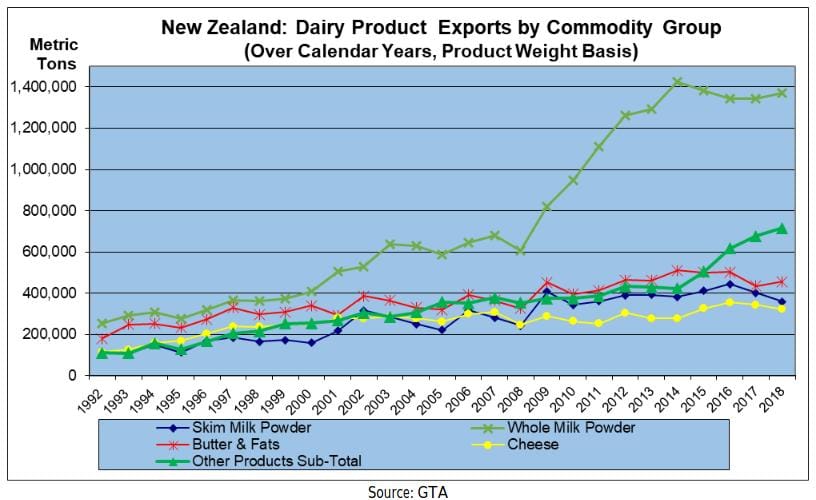 Zero Government Subsidies
New Zealand farmers do not rely on any government subsidies for agriculture or dairy. But, this dairy farming success story wasn't without its fair share of difficulties.
Back in 1984, New Zealand's Labour government took the dramatic step of ending all farm subsidies. The subsidies were made up of 30 separate production payments and export incentives.
This move was initially received with a lot of resistance. After all, the subsidies at that time accounted for more than 30% of the production value.
However, this forced the country's farmers to embrace the market demand and prices as well as to increase production efficiencies. The results are evident even today. Milk production per cow has continued to increase year-on-year over the last 30 years.
In 2018/19, New Zealand reached record milk production per herd and per cow. Today, New Zealand's dairy sector employs 46,000 workers and has earned export revenues worth $18.1 billion in 2019.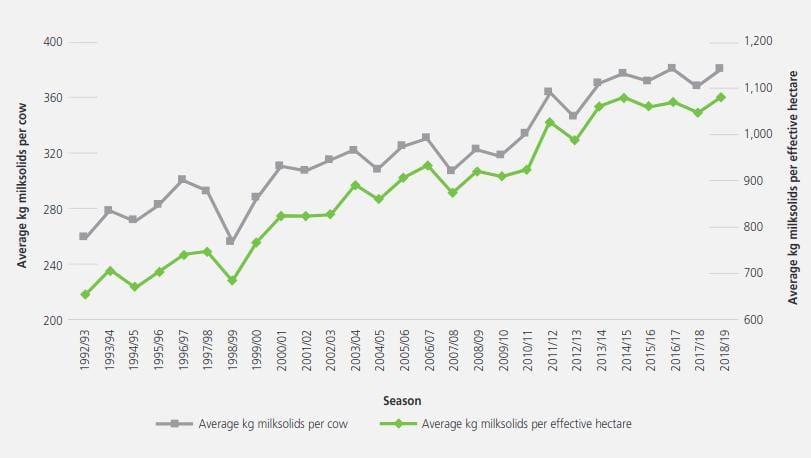 Vertically Integrated Milk Processing
One major factor for this success is New Zealand's vertically integrated dairy processing units. It has three co-operatives in Fonterra Cooperative Group, Tatua Co-Operative Dairy Company Ltd and Westland Milk Products.
Some of the other big processing companies include Open Country Dairies, Synlait, Westland, Miraka and Oceania.
The Dairy Industry Restructuring Act (DIRA) in 2001, amalgamated New Zealand Co‐operative Dairy Company Ltd and Kiwi Co‐operative Dairies Ltd, into Fonterra Co‐operative Group Limited. Today, Fonterra is the country's largest dairy company and processes about 80% of the country's milk supply.
Farmers Increase Herd Sizes
Over the last three decades, farmers have reduced the number of herds by around 20% and have almost tripled the average herd size. Expansion of large dairy herds in South Island is one of the primary reasons for this increase in average herd sizes.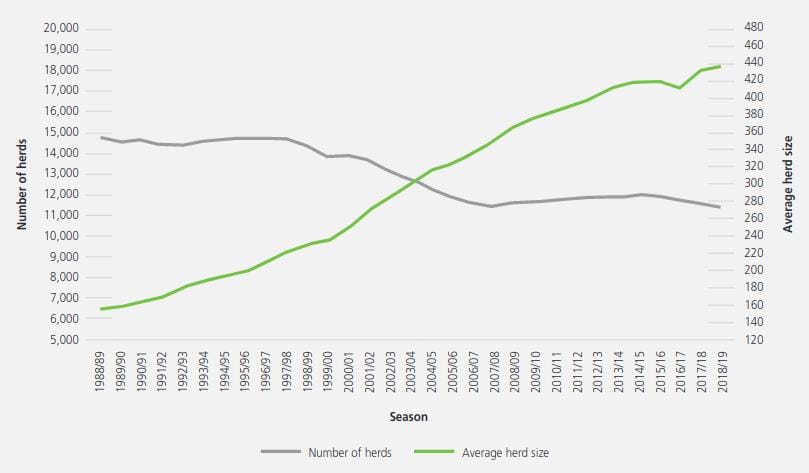 Farmers Opt For High-Yield Crossbreds
Farmers are also increasingly rearing more and more crossbred cows. They've learnt about the benefits of hybrids and the ability to get the best traits from the two leading dairy breeds.

Nearly half the cows in New Zealand are Holstein-Friesian/Jersey crossbreed.
And about a third of them are Holstein-Friesian. Jersey cows come a distant third making up 8.6% of the total. The top 3 cow breeds make up more than 90% of all the dairy cows in New Zealand.