The 2020 Fonterra Dairy Share Farmer Award was for the first time live-streamed due to COVID-19 health and safety measures, and boi, we were treated with an excellent presentation.
First, a big shout out to Fonterra Australia for sponsoring the event along with DairyTas, and an especially big shout out to the hardworking dairy extension team at the Tasmanian Institute of Agriculture (TIA).
The TIA dairy extension group, including Samantha Flight, Symon Jones, Lesley Irvine, and Nathan Bakker led a smooth presentation. The event was live-streamed on YouTube and the TIA Facebook page. As you can see, plenty of questions asked, and the conversation kept rolling.
We first viewed a live question and answer session by all of the top-notch finalists. The three finalists that we were fortunate to hear from were Craig and Zoe Waterhouse from Marrawah, Marcus and Simone Hayward from Ringarooma, and finally the 2020 Fonterra Dairy Share Farmer winners, Gennaro and Rosselyn Velasquez from Edith Creek. Also, in attendance was Brooke and Damien Cocker, the 2019 Fonterra Share Dairy Farmer of the Year from Sheffield who provided their expert opinion on the quality of the finalists.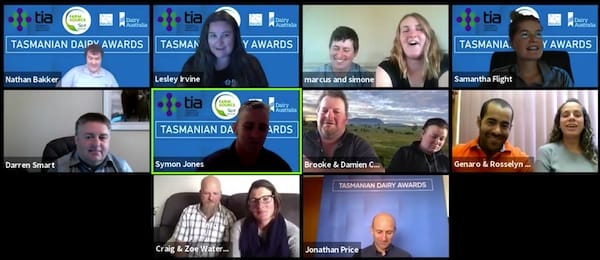 All finalists were more than worthy of winning the top position as 2020 Dairy Share Farmer of the year. However, it was Gennaro and Rosselyn who shone through with a fantastic story to tell. The award is testament to their journey through life this far. It demonstrates the enthusiasm and passion they have for driving success and gives us some insight into the love of chasing dreams and having fun that these two set the bar high.
The Winners Genaro and Rosselyn Velasquez!
Genaro and Rosselyn's journey, have taken them across different parts of Australia, after departing their motherland of Venezuela. They found themselves scoring their first farm management role working on Richard and Melissa Duniam's home farm Glenwood in Tasmania's north-west. Richard and Melissa were notably 2018 ANZ Dairy Business of the Year finalists. Glenwood is where I first had the pleasure of meeting Genaro, as Richard has been a long-time customer and now a Pasture.io pioneer of the satellite pasture measuring service that we offer.
Genaro and Rosselyn departed Glenwood with their sights set on an exciting new share-farming opportunity. This new adventure led them on to demonstrate their innate ability to create opportunities and create them with enthusiasm while making the best of it.
There were many areas pointed out as their focus for running a successful share-farming business. One big area cited, which may I say, should be the focus of any farming business that has livestock that grazes. Yes, you guessed it, pasture management! Pasture management is crucial to successful dairy farming business across the world. The same is true in beef and sheep enterprises.
Often self-proclaimed by farmers is that the majority fall in two camps. One is that of cow people, and the other is of pasture people, with few claiming that they sit across both pieces. Genaro and Rosselyn are one of the few who work hard with both their pastures and their animals. They both graduated from university with veterinarian degrees and now strongly emphasise that it is both the performance of their livestock and pasture working in harmony. After all, they have now claimed the award 2020 Dairy Share Farmer, so I'll let you be the judge.
Genaro and Rosselyn discussed the importance of understanding and executing well on pasture and grazing management. Their lovely, quiet and gentle cows are again testament to Genaro and Rosselyn's grasp on nailing the right balance between livestock and pasture management in a dairy production system.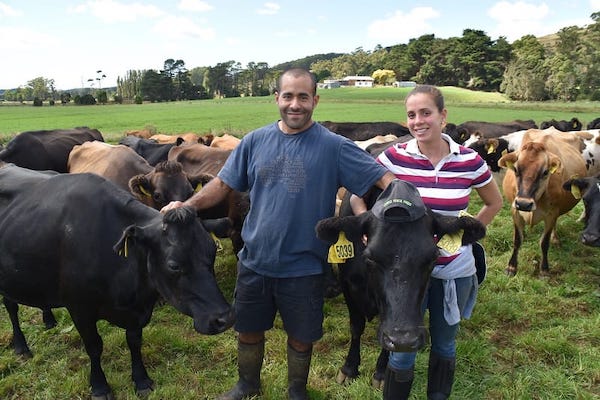 A few pasture management areas worth touching on in light of their success is in:
Pasture measurement
Leaf-stage grazing
Grazing at the optimum leaf stage for the given time of year.
Growth rate demand
Aligning pasture demand with the current and future growth rate conditions
Area allocation
Matching the growth rate demand and leaf-stage with the right rotation
Target cover and residuals
Optimising pasture quantity and quality by looking after the livestock and pasture
These are some of the fundamental grazing principles that Genaro and Rosselyn employ on their farm. Principally these pasture management practices influence the performance of not just their pastures, but of their animals and their whole dairy production system.
You can read more detail on the fundamentals of pasture management here. Like Genaro and Rosselyn, you too can get aquainted with our free grazing app and signup today.
Once again, a massive congratulations to Genaro and Rosselyn.
Happy Farming!
- The Dedicated Team of Pasture.io, 2020-04-29