I know you are busy. I am a fourth-generation dairy farmer, and I also run a startup that helps livestock farmers like you. So I understand how hectic things can get for you.
Despite that, for several reasons, I would urge you to participate in this year's Australian Dairy Conference (ADC).
What is the Australian Dairy Conference about?
For those of you who do not know about ADC, it is Australia's premier dairy event, started by a group of farmers, for farmers like you.
Unlike many generic farmer events, the ADC is committed to adding value to dairy farmers like you. To help you take a step back from your regular routines and look ahead into what else is possible.
The ADC is an annual event, and this year, it is happening in Melbourne on the 20th and 21st of February, 2020. Over 500 delegates are expected to attend this year's conference.
Who is the Australian Dairy Conference for?
If you are a progressive dairy farmer, looking to learn about industry best practices, network with the cream of Australia's dairy industry, and eager to learn about the latest innovations – this one is for you. Make sure to register for the event. Get informed, inspired, and innovative.
What will happen in this year's Australian Dairy Conference?
Over two days, ADC 2020 will host a range of discussions and panel sessions. Some interesting topics include:
How to manage waste from our farms
How to create good soil to help your farm
Most significant challenges facing the dairy industry
Insights from innovative and successful dairy farmers
Perspectives around how the dairy value chain is changing
In addition to this, there will be plenty of opportunities to network as well as learn from dairy farmers, dairy industry innovators, thinkers, and subject matter experts.
Key Highlights of the Australian Dairy Conference 2020
Here are the top three reasons to make it to ADC 2020:
ADC 2020 will explore the dairy culture in Australia, both on your farm as well as for our entire industry. Ask probing questions and contribute to making dairy a more lucrative sector.
Meet diverse people doing great work across a range of profiles - from farm employees to large innovative farm owners to CEOs to scientists. This is your best chance to network and to pick the brains of our industry's brightest minds.
Seldom do we get a chance to reflect on the good things about dairy farms and the industry as a whole. The Perfect Pitch series of home-grown videos will show us why dairy matters. Don't miss it.
ADC 2020, is not all work. Some of the best learning happens when smart people meet each other in informal groups and relaxed environments. The ADC Gala Dinner and Happy Hours promise to provide you with an opportunity to unwind and make deep connections.
Our dairy culture
Make dairy connections
Dairy matters
Lots of fun and learning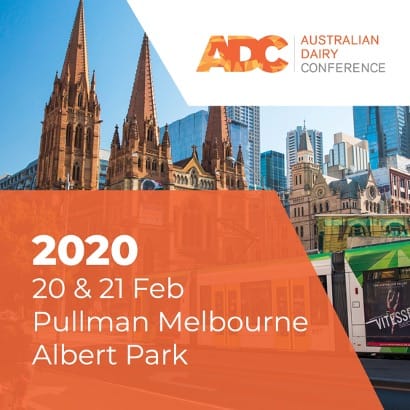 Learn from the best at the Australian Dairy Conference
ADC 2020 also has a stellar lineup of speakers.
On day one at the Australian Dairy Conference:
Ronni Kahn, CEO of OzHarvest, will take you on a journey of how it is possible to use an idea to change legislation and turn food waste into a food resource for people who need it.
Jude Capper, a livestock sustainability consultant, takes us on a remarkable journey to explore what is needed to take us into the next decade of sustainable dairy farming.
Jeff Odgers, Chairman of Dairy Australia, will share his insights on some harsh lessons that we may need to learn in the near future.
Dr John Roche, Chief Science Adviser to NZ's Ministry for Primary Industries, takes us on a deep dive into the five biggest challenges we face and what we need to do as dairy farmers in a rapidly changing world.
Prof. Frances Hoyle, an Australian soil scientist, will teach us how soil quality, biology, organic matter management, climate, soil, and management impact your farm's performance.
Will Armitage, an innovative big dairy farmer by UK terms, will share his insights about the quantum changes he made to his business concerning consumers, environment, and technology.
Chris Russell, an agricultural scientist, will attempt to help us quantify our industry's physical waste.
Jana Hocken, author of The Lean Dairy Farm, will show us what our non-physical waste is and how this contributes to our industry's physical waste.
Also, Five young and ambitious dairy scientists will communicate their inventions to you via a six-minute presentation. You will help them win recognition among Australian dairy farmers.
On day two:
Consumer insights specialist Julian Mellentin will help us better understand how consumers are changing the dairy supply chain.
Mick Harvey, a senior dairy analyst along with Chris Jones, Manager at Chilled, and dairy farmer David Jones, will talk about why reaching the consumer is an integral part. And why supermarkets are our primary consumer touchpoints.
Mandy Johnson, a consultant, will teach us how to create a workplace culture that gets things done.
Dr Mike Paros will share his unique perspectives on how to create a culture of compassion and stockmanship within the dairy workplace.
Dan Brown reflects on his journey that helped transform the work culture at Coomboona.
Tiffany Davey will talk about Sexual harassment in the farm workplace.
Seline Win Pe, a survivor of the Lindt cafe siege, talks about that dreadful day and how she emerged with a desire to make a difference to Australian Agriculture.
Three remarkable young farmers, Aaron Thomas, Rachael McGrath, and Rose Philipzen, will share their resilience stories that they learned on their farms.
And finally, the ADC 2020 Pitch will review six adverts to promote the Australian dairy industry. Panel members will share their inputs, and you will vote for ADC's best dairy matters advertisement.
For more details, please refer to the complete ADC 2020 program schedule.
Earn more profits
In addition to this lineup of speakers, Pasture.io will be there too. Please do reach out to me, especially if you have any questions about how you could earn more profits through better pasture management.
Come visit us at our stall or write to us at [email protected].
Adam, Juan and I look forward to meeting you at ADC2020.
Happy farming!
- The Dedicated Team of Pasture.io, 2020-01-29